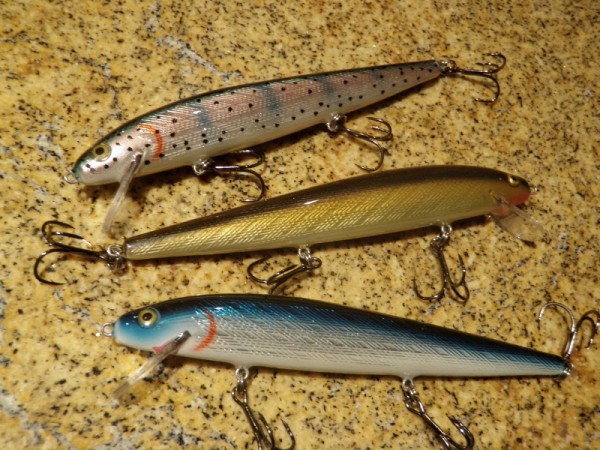 A kokanee, rainbow and chub patterns.
Many years ago, Dink introduced me to a young UPS driver by the name of Jeremy Anderson. He had been doing custom paint schemes for John and I really liked his patterns and price. His goal was to get into the lure manufacturing business and he plugged away at it for several years. Today he is the owner of Black Dog Lure Company and produces some of the most beautiful custom lures on the market. Needless to say, as his business grew and he committed to it full time, he wasn't able to continue to paint for us. That was my introduction to custom painted lures.
I have met a lot of guys that painted lures as a hobby over the years and several of my friends still enjoy painting for themselves. Recently, John hooked me up with Tim Hughes from www.hughescustombaits.com. Be sure and check out his website to see his artistry in painting lures. Tim was a guide for several years before deciding to go "all in" on the custom lure business. He has been featured in many of the top Bass fishing magazines and has painted for several of the top Bass fishing pros. He is currently working with Bass Pro Shops on the development of a lure line.
A couple of months ago, I sent him a few patterns to see how well he could duplicate them for me. What I got back was even better than what I sent him. One of the things I really like is the heavy clear coat that he applies after his colors. It will help the lures to hold up from the wear the hook swings will do to a lure after hours of trolling. I am really impressed with the quality of his work!
You can reach Tim by phone at (417)-739-5881 or contact him by email at hughesbait@centurytel.net. He was a pleasure to work with and I got my lures back within days of what he quoted me.
Tight Lines
Rick