Date: 12/27/07
Tackle type: Net
Manufacturer: Stowmaster Nets
Reviewer: Rick A.

INTRODUCTION: The most important factor with your trophy trout net is having something that functions well and has limited negative impact on the fish when it is struggling in the mesh. We tested several nets before settling on this one as something that I could use day in and day out with satisfaction. There are other nets out there that will work, but this one is at the top of my list for now.
Stowmaster Model TS84S Specifications:

Handle material: 6061 T6 aircraft quality aluminum

Handle length: Extends from 36" to 60"

Hoop size: 24" x 28" x 24" deep

Net material: Heavy duty nylon netting with fish friendly knot-free design specially coated.

Weight: 4 lbs.

Additional features: Anodized aluminum handle that telescopes for landing fish and a folding hoop that collapses for storage.

MSRP: $129.99 Cabela's offers them for $78.99

ABOUT STOWMASTER: They are an American based company doing business out of Lake Mills, Ia. They are dedicated to producing top quality, innovative products for the recreational industry.
With over 30 years experience in providing products to customers worldwide, all of their Tournament Series Precision Landing Nets are made entirely in the United states and have a lifetime guarantee against breakage.

IMPRESSIONS: I have used a lot of different nets over the years. There have been big improvements in them in the last ten years or so. Right behind the rod, reel and line, the net is your next most important connection between you and your fish. I became aware of these nets when Mark, my business partner, arranged for one to be sent to me this last year to try. I liked the handle extension right off the bat. Also, the fact that the handle collapses down into the net and the hoop folds in half, makes it one of the easiest nets to store that I have ever used. This was the only model I tested but the company offers a wide variety of models that would accommodate panfish to salmon. We chose this particular model because I like to target trophy trout from 5-35 Lb. The coated nylon net helps reduce time lost getting hooks out.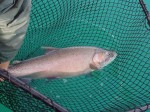 TESTING: I have had the net for almost a year now and landed some nice size trout in it. We have landed browns to just over 9 Lbs., rainbows to 11 Lbs., and bull trout to 18 Lbs. I didn't get into any real big mackinaw because I didn't fish for them this past year. I'm sure it would have easily handled 20-30 Lb. lakers without any problems. The extension to the handles comes in real handy when youjust can't seem to get that trophy fish much closer to the boat. The large hoop easily accommodated all the fish we landed. The coated nylon netting is much friendlier on the fish than standard nylon netting and the coating, though it doesn't eliminate all hook snags,does cut it down to some degree. All the materials in this net seem to be of high quality with the exception of the metal button locking device when the hoop is extended. It is more the design than the material that causes the problem.The pop-up button has a tendency to recede causing the net hoop to slid down the handle. This isn't a problem with landing a fish at all as the net stays in it's proper position due to gravity and the weight of the fish. The problem occurs when the net is vertical in my net holder on the rod rack. If the button recedes too much, the hoop will slid down the handle. This is more of an inconvenience than anything else. At 4 lbs., the net is heavier than most and a little more of a workout to use.


OPERATION: The 36" handle slides from within the folded hoop and locks for standard operation. An inner handle extends another 24" and locks when extra reach is needed. The hoop folds out and locks when the handle reaches the proper length. This feature is really great when space is a problem. When I fold mine up it is just a little over 36 " and slips right behind my boat bench seat. This is one of the best features of this model in my opinion. The hoop at 24" x 28" is plenty big for most large trout. With the exception of the hoop not locking well or consistently in a vertical position, everything else on this net performs well.

DURABILITY: I have only tested this net in freshwater but believe it would hold up well in saltwater due to the materials from which it is made. It seems super sturdy and I have tested (2) fifteen pound downrigger weights in it with no damage or distortion to the net or hoop frame. The netting isn't showing any signs of breakdown from use or the sun. Being a guide and including all therecreational fishing I do means that this net has probably been out at least 50-60 times this year. This would probably be more use than the average fisherman does in 3-4 years.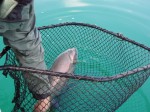 PRICE & APPLICATION: This net is more versatile than any I have ever used and as I stated earlier, the folding feature makes it a big winner in the storage department and ease in getting around with it. The MSRP is a little spendy at $129.99 but these nets, in my opinion, are designed more for professional grade use or the really discriminating angler that has to have quality top end products. Your best bet on getting a good price is to purchase them from Cabela's for $78.99. That was the best price that I was able to find.
Pros:

Fish friendly mesh
Collapsable, lightweight design
Long handle extension
Good size bag for trophy trout
High quality construction overall

Cons:

Expensive
Net is heavier than other nets without fish-friendly mesh
Hoop locking mechanism malfunctioned after extended use
CONCLUSION: Nets have evolved just like the rods and reels and many other tools we use in our pursuit of our favorite fish. With the ability to store this net easily and the extendable handle to be able to reach out for that "hard to get to fish", I would recommend this net to any angler looking for a quality net. As I stated earlier, this is one of the most versatile, sturdy and innovative nets that I have ever used.