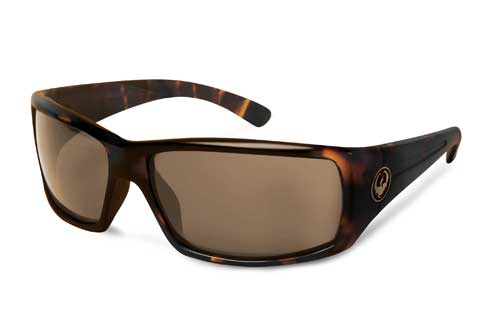 The Cinch sunglasses from Dragon.
It was late that night and as I got into the truck I didn't have a clue that, unbeknownst to me, my sunglasses were perched on the gunnel of my boat as I pulled out of the parking lot. At my age (over 60) stuff like that happens a little more than I like! Long story short, I remembered at the bottom of the hill ( eight miles below Paulina Lake) and pull over to look for them. As luck would have it, the empty case was blown into the back of the boat and the glasses.....well, lets just say I never saw them again!
At my age, I need Rx sunglasses and those cost much more than just buying a pair off the rack. I am also very choosy about just what I hope to see through any glasses. After some on-line searching, I found a company, Dragon/Alliance, and a pair I really liked......at least the appearance of them. That is where most of us start.....they looked pretty cool! Because I am on the water so much, I knew I wanted more of a wrap-around style this time and polaroid, of course.
I found a company, SportRx, LLC., out of San Diego, Ca. (888-831-5817) that could process my prescription on-line and ordered a pair of the model "Cinch" sunglasses. My particular glasses were ordered in the Tortoise frame with polarized, true gray lens. I am used to progressive lens so that was a given and also ordered the digital surfacing. The digital is the latest process versus the old analog process employed in the past. Bottom line......it is easy to cross over into the $400-500 range rather quickly. A regular pair would be in the $80.00 range without the prescription. Oh to be young again with good eyes!
I have had the glasses for over 6 months now and really like them. They are very comfortable and the rubber nose pads are very nice on the nose. The hinges are quite sturdy and still have good tension. The lens are polycarbonate and no scratches, so far. My eyes don't seem to tire when wearing them as they have with some sunglasses I have owned in the past. Best of all, they look really good on me and I see very well out of them! I would recommend these glasses to anyone looking for a high quality pair of sunglasses.
A little about the company; Dragon/Alliance opened up shop in a garage at Capo Beach, Ca. back in 1993 by founder Will Howard. They produce a varied product line including, sunglasses, snow goggles, MX goggles and a soft goods line.
Tight Lines
Rick