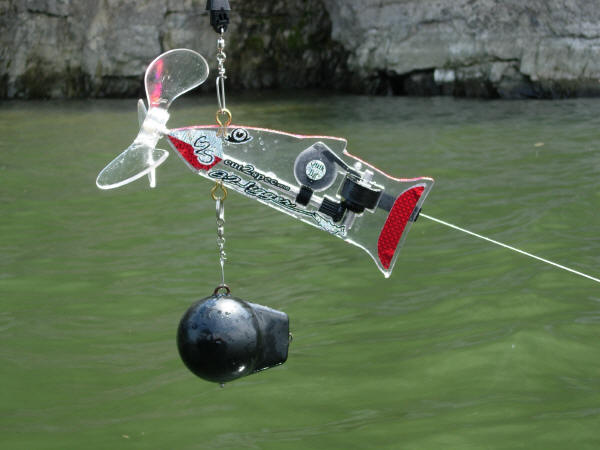 The cut2spec New G2 Jigger allows jigging action on your lure while using your downrigger. Pretty cool!
Every once and awhile I run into some cool fishing tools that can really improve your fishing success. The G2 Jigger and G2 Planer board fit that category. I first heard about the downjigger in the early 1990ís when Ron Scherer was promoting them from his fishing program on TV. I was intrigued by the whole process of being able to impart a jigging action to your lure. ďDiehardĒ brown trout anglers have known for years that by jigging your lure while trolling, you would up your catch rate on brown trout tremendously. Now you could do it while downrigging. I didnít hear much about the downjigger for several years and then ran into one at the Portland Outdoor Show a couple of winters ago.
Fast forward to last year. I got word from a good friend of mine that another friend, Brad Stout, had started using the downjigger and board with some success. After a phone call to him, I called the company and talked with the owner, Paul Dubriskie, about the products. He filled me in on the history and resurgence of the products as he was producing them again after a long layoff. He agreed to send me a sample of both the G2 Jigger and G2 Planer board to try out and review. Following is my review of how these products performed for me and a few of my friends.
The G2 Jigger originally had the weight incorporated into the whole device which made it a bit bulky and expensive to ship. His new and improved jigger attaches to your downrigger cable and then the ball hangs from it. That makes it easier to store and could be kept in a tackle box or bag. It is light weight being mostly built from Lexan plastic. It seems durable and I havenít had any issues with it in the 8 months I have owned one.
Here is how it works. You put your lure and line back as far as you would like. You then put your line in the release coming off the jigger. The system is impressive as a propeller at the front of it runs a gearing/clutch arrangement that pulls a trailing line and downrigger release with your line in it about 4 feet in until it stops and then releases it. A plastic cup shaped parachute near the release catches water at the end of the cycle and pulls it back out until the gears engage again and pull it forward thus producing a cycle of pulling your lure or fly several feet and then dropping it back and then it repeats.
There are a couple of tricks that you need to know when using it. You need to allow some extra slack line after you have dropped the whole set down. If you donít, a built in default system will pull the line up tight to the jigger and the jigging action will stop. I allow about an extra 10 feet. Again, you donít want to tighten up your rod like you would on a regular dowrigger set-up. You will know you have it working correctly by reading the rod. It will have only a slight load-up and you can actually see the rod respond to the rigging......it will pull down momentarily and then pop back up then repeat again over and over. I run this set-up when trolling the top 30 feet of water. If you want to use it deeper, I suggest that you run a stacker release a few feet above it on your downrigger cable and then allow your extra 10 feet of slack and put your line in the stacker release. After you drop it down you can then tighten up like you normally would and load your rod. You wonít see the same action I described earlier in a shallower application but if done correctly, it will be working for you.
The G2 planer board is a system by which you can put your lure both off to the side of the boat like a regular board but with a jigging action on your lure or fly much the same as I described above for the G2 jigger. The internal system and process is identical. It is a single board device that can be run off a mast set-up or simply attached to a line and then you tie it off to one of your cleats. This technique is for top line trolling and can be very effective. I did occasionally have the board dive on me and a couple of friends have had the same experience. If it does, you simply want to put the boat in neutral and take the pressure off the board. The foam in it will make it slowly rise to the top where you can retrieve it and start over. One suggestion to keep the diving to a minimum is to not put it out too far from the boat. I wouldnít go over 30-40 feet.
I can tell you that I have caught some nice trout on each product and my friends that own them have too. Some big browns came of the board last spring and summer. Our biggest was a 7.5 LB. hookjaw. I didnít use the G2 Jigger as much as the board this past year but plan to this coming fishing season.
For more information about these products be sure to visit www.cut2spec.com or call Paul at (603)-357-8511. You can email him at sales@cut2spec.com
Tight Lines,
Rick