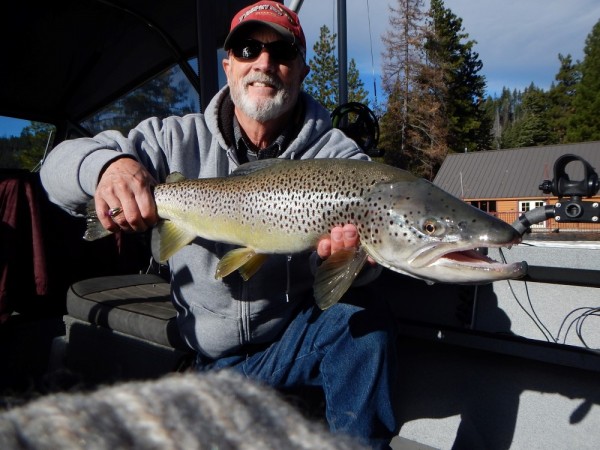 This nice hookjaw put up a great fight before I took a couple of photos and released him.
After the Canada trip I still had the "fishing itch" and decided to scratch it before winter set in.....if it was going to set in! I wanted to get out on one of our lakes before it froze up and just made it by a few days. We had a bad freeze that lasted for days with temps as low as –35 degrees at night here in Central Oregon. It was the coldest weather I have experienced since moving up here in 1995!
The Solunar Table called for a good morning bite and as luck would have it, things went off like they called it. I hit this fat 8 LB.+ hen after only minutes on the water around 8:30 a.m. She was a "fire plug"and barely hit 24 in. in length and released easily after two photos. It was a great start and I was pumped from what I saw on the graph. About an hour later I hit a nice 4 Lb. hen that was dripping eggs so I decided to get her back right away. Then after another 45 minutes with one missed strike, the rod goes off and after a few minutes of fighting him, this nice long hookjaw was in the net. He weighed a little under 12 LB. in my net which translates to just under 8 LB. After a couple of shots of him I dropped him back in.
The big fight of the morning came right after 11:30 and I thought this brown could be over 10 the way she fought.....easily the best of the morning! As you can see in the photo, she was a spawned out hen that had been roughed up by what we believe was an otter. She had a chunk taken out of her dorsal and several big gashes on both sides of her body near the tail. I had never seen anything like this before. She weighed right at 8 LB. and released just fine after a couple of shots of her.
The approaching front finally arrived around noon and clouds blew in and the wind came up and the bite really slowed from the hot bite that morning. I decided to call it a day and got off early that afternoon. I hope to make it back out a couple of more times before the years end. Weather and road conditions dictate things this time of year!
Tight Lines,
Rick