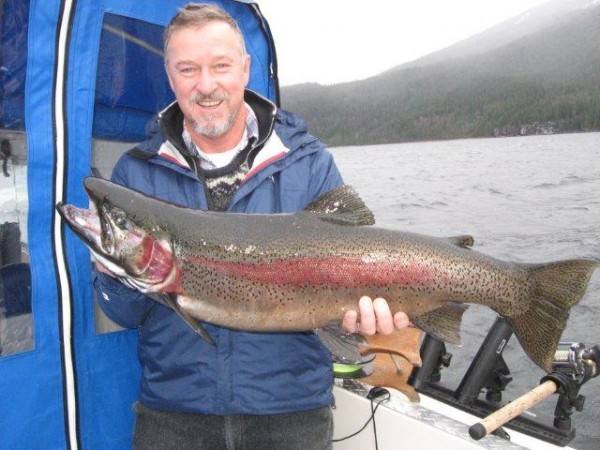 Beautiful gerrard rainbow from a recent outing on Kootenay Lake for Capt. Brad Stubbs. Photo courtesy Kootenaykingfisher Guide Service.
The last week to 10 days has been tough fishing. Low numbers and working hard to get our big one for the day. Not typical of this time of year. Hopefully it changes soon !! Have tried most everything, and nothing makes a big difference. Just have to wait patiently for the short bite time, and your chance at a big one. Even the bull trout went moody for awhile here. Seems to be lots of fish stacked up at 100 - 150 ft, but they seem to be in hybernation mode. Water temp is good at 43 degrees. Patience seems to be the order of the day, but I don't have any in November December as the fishing should be hot for the most part.
Having said all that we are getting some beautiful rainbows. Having an opportunity at a big one most days. Ralph got a big male that was 35 inches long. Most fish at this length should be well over 23 lbs, but this one was 17lbs. Big head and long, but very thin in the belly. Gorgeous fish none the less. Like I said they seem to be in hybernation mode and not feeding. Most of the fish we have kept have nothing in their stomachs. One 13 lber we kept had lots of fat inside it, but its stomach was shrunk tight. Not sure if it could have fit a kokanee in it. Shows that they are not feeding heavily.
I've been using everything. The 215 has been the most consistant, but I have also hooked big fish on Lyman plugs and Billies. Most fish have been caught below 3 mph. 2.2- 2.8 mph seems to be best.
The good news is that they should be off their diet soon, and start feeding hard. Some little change in water temp or weather will turn them on. We'll be out there when it happens!!
Tight Lines .. Brad Stubbs
www.kootenaykingfisher.com