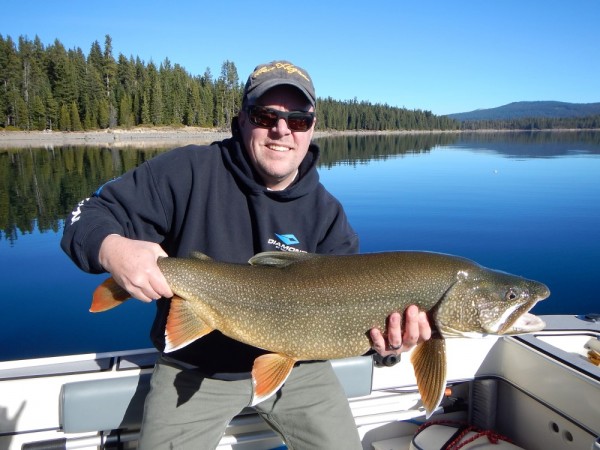 Eric Herb with his personal best laker. Right at 19 LB! Congrats buddy! He will be doing a mount with RTM.
When I was working for Scotty Downriggers years ago, I had the good fortune to befriend and fish with Terry Bennett and Steve Kroll who were Pro-staffers at that time. They shared a lot of knowledge with me on lake trout fishing and I will be forever grateful! I consider them to be right at the top of the list of expert lake trout anglers here in Oregon. From what I was able to put together from them and my own developing drill, I managed to put most of my friends including my two oldest grandsons onto 20 LB.+ lakers in the mid-2000ís. The best one we put in my boat was Steve Kellyís big male that was 42 in. long and just shy of 31 LB..
In recent years I have been much more interested in chasing the big gerrard rainbows of Kootenay Lake and Pend Oreille and pursuing the excellent trophy brown fishery right here in my own backyard.
My buddy, Eric Herb, wanted to get out for some lake trout action at Crescent Lake when I got back from Canada and California. Jan and I were out of state for a month from mid-Oct. through mid-Nov. so Eric and I decided to go right before Thanksgiving. We got lucky and hit a beautiful full sun day. I thought I knew where we would find some but the early morning drill only produced a missed strike. Let me back up here for a moment. I remembered Eric having an Aluminum sled with downriggers though I had not been out on it with him before. When he showed up at the crack of dawn to pick me up in town, he was pulling his new 21 foot Arima Sea-Ranger cuddy cabin......killer boat I might add! Unfortunately, he hadnít reloaded his new boat with downriggers. I had brought several rods including rigger, leadcore and some special rods for flat lining in case we worked it shallow for browns if the conditions were right.
As luck would have it, conditions were poor for anything shallow as the wind never materialized all day and we had full sun......great day for deep water downrigging but that wasnít going to happen for us either. We relied on the leadcore and that was a limiting factor as to where we fished. By mid-day I had a good feeling that we would find some. Right at noon, one rod goes over hard in the rod holder. I was standing next to it and immediately got it out of the holder only to have it come off before I could even hand it off to Eric....just wasnít hooked well! It definitely had some weight so we were excited and up for more action. It didnít take long. About 10 minutes later, the outside rod goes over with the drag growling on my Diawa linecounter.
Eric was up front steering and I told him to take it and we switched places. I could tell when we slowed the boat and the way the rod loaded, it was a good fish. Maybe five minutes after it was hooked and about 20 feet down under the boat, we could make out a beautiful large laker expelling bubbles as it adjusted its air bladder while ascending from the depths. After netting it we determined it was real close to 23 LB. on my Boga-grip scale while we weighed it in the net to protect it. That equates to 19 LB. allowing for the 4 LB. net weight....close enough on a fish you want to release. After a few photos, we dropped her back and watched her descend down to more comfortable places.
On the way up to the lake that morning Eric said he wanted to do a laker mount if we got one in the high teens......we got lucky and pulled it off! The mount will be ready next summer!
Screaminí Drags,
Rick