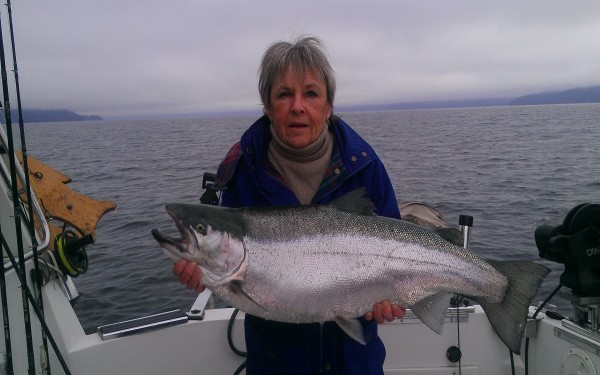 Drew Dickson with this huge gerrard close to 20 LB. caught at the end of Oct. Photo courtesy Ed Dickson, Diamond Charters.
After a stellar year of downrigger fishing, we moved to top water a little early this year as the water cooled to 56 degrees in early Oct. The big fish started hitting on Brown Lavender and White ďArtsĒ flies (polar bear) tied in Comex B.C. as the season progressed and I tried a myriad of different colors and body types, I found the large body flies are king this year and next color that produced was a Grey light Pink and White, these flies are tied by the Kootenay Fly Company, and as conditions changed their Black over Silver w/ rainbow Mylar streamers found the near 20 pound fish my wife is holding.
Understand we NEVER weigh a fish for release as their body has been in negative buoyancy and hanging fish is very hard on these big goliaths, as their intestines can twist and even when we take a photo it is done quickly with wet hands, replaced in the net and held along side the boat until it will swim out of the net. As to right now, I just tied some pure black with Gold flat Mylar as I had a 16 plus on one two days just two days a go, along with 16 smaller fish on the Mouse by Frisky Jenny.
By the way, the original Frisky Jenny (Virginia Sturgis) passed away last week, and we will miss her dearly. Lots of Mylar seems to be key this year and big is in as the Kokanee are healthy and plentiful. Getting over the bait is critical for a repeated catch, but when you least expect it a big fish will strike simply because he is looking for the same thing you are Safeway! A Large Population of Kokanee. Remember if the barometer is falling use dark flies and if itís rising go light even if itís cloudy, the fish can sense the change long before you can.