I got this report recently from Jackson Stall of Bend, Or. He and a buddy were up at Crescent a couple of weeks ago and scored big time on some nice lakers. He hit his personal best laker on a 33 LB. monster and released it. Check out his report below: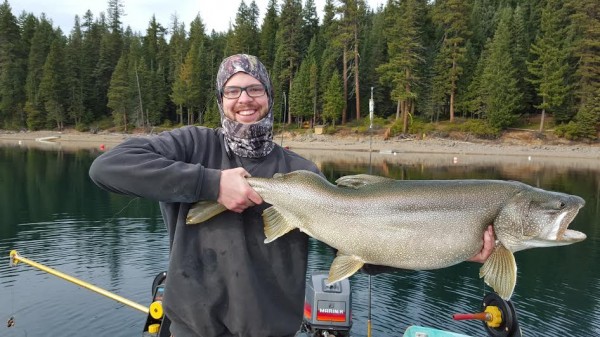 Jackson with a toad.....41 in. laker! Congrats man!
Drove down to crescent lake for a final fishing trip before the snow hits, ended up being one of the best days of fishing I've ever had in central Oregon. A friend and I drove down early on Nov 20th, we were fishing by 9 that morning and the weather was nice. Warmer temps up to about 50 and clear skies.
I haven't fished this lake a ton so it has been a learning experience finding fish and getting them to bite. I have used lots of different baits and rigs that have been suggested to me thru other fisherman and reports that I've read. Raps, Flatfish, Dodger rigs, J Plugs, and Spoons. They all catch fish but I wasn't finding many big fish. I wanted to try some larger A.C. Plugs to really imitate the bait fish out there. I had a few that I had gotten from www.acplugs.com but also picked up two 7" A.C. Minnows in a rainbow color at the Odell Sportsman Center by Crescent lake.
Started fishing around 9 o'clock working my way down the westside along the lake houses. Set up all my rods with 7in A.C. Plugs and started dropping them down to around 70, 50, 60, and 40 on the downriggers. I started in around 100 to 120 foot of water to get the lines out. The A.C. Plugs looked great in the water with a nice swimming wobble motion, I was trolling them around 2.5 to 3mph. I also added a Pro Cure Super Gell, Herring and krill to give them that smell.
Had one side set and was working on opposite downrigger when we got our first bite….. these fish pull good! Netted him and measure the fish at 31.5 by 17, then he was released. Reset and hooked into another fish maybe and hour later at 70'. That fish was measured at 31 by 19. We continued to fish in 100 to 120' all day along the lake houses. Ended up the two more fish measuring 31 by 21 and another at 33 by 21 estimated at 18 pounds. The bite ended around 2 o'clock... Seemed like they really were active at the peak of the sun. All fish came from 55 to 70 foot that day on the A.C. minnow in rainbow, one fish ate a green one I had. We stayed the night at the Willamette Pass Inn to get up the next day to give it another go….
Second day, Nov 21st It was a frosty morning so we got a little later start at around 9:45. We started in the 100 to 120' rage along the lake houses with no luck, after an hour we moved into shallower water 75 to 85'. Soon after moving in I hooked into a monster really close to the moorings by the houses. We had to drag him out to deeper water so we could safely fight him. He was just stripping line of my 15lb class spin set up. Took my time fighting him, around 15 mins. I could tell he's was huge from all the weight on the rod. A few nice runs for the bottom and then we finally netted the 41 by 26" Mack!!! on the 7" A.C. Plug Minnow. What a fish, according to his measurements and using a formula to estimate weight in trout… he came in around 33 pounds. He did have a rather large growth behind his dorsal.. unclear to what exactly it was. After the measurement and photos he was returned to his home in the lake.
Wow.. Day Maker, but the day was not over yet. Shortly after getting the lines set back out we hear my favorite sound… zinggg immediately taking drag off the reel, what a bite. We had another great fighting fish on!! Netted him and measured him at 36 by 23 estimating the weight at 24pounds. We landed one more fish that day measuring in at 27 by 23. After that fish the day began to slow down.. really seemed like the bit was between 10 and 2 o'clock.
What a great trip to Crescent lake. Fishing this time of year proved to be very productive. I know I have finally found my go to bait for Big Lake Trout…. 7" A.C. Plug Minnow in rainbow, I will be trying the 9" version as well... figure with lakers, bigger the bait bigger the fish.
7 fish in two days
Get Bit!
Jackson Stall