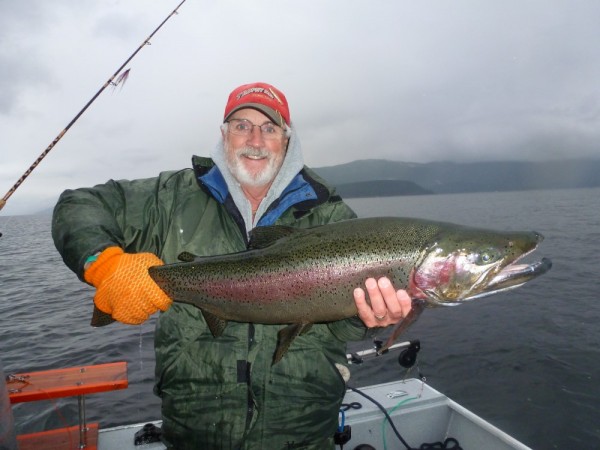 My best of the trip came on the last day. He weighed in at over 15 LB. and was over 32 in. Caught on a Split-Shot bucktail off the boards.
If you have been following along, you know John Werwie and I have been hitting Kootenay Lake for several years now. Our first trip was 2007 and we knew after that trip we would be coming back. The next trip was Fall 2010 and we had enough success on some big bows that we were hooked after that. To me, fishing for these giant gerrard rainbows is as good as it gets. When you put together the whole scenario of a "drop dead" gorgeous lake that holds the biggest native rainbows in the world and the techniques we employ to chase these big rainbows, it is the perfect trip for trophy trout in my book!
I guess part of the allure is the unique approach of pulling planer boards way out to the side of the boat dragging big bucktail streamer flies. These represent the fingerling size kokanee those bows like to poach right off the top. When you get a good chop going the board lines are jigging those flies just under the surface at 3-3.5 m.p.h. When a big bow strikes, your drag starts screaming like nothing you have probably ever experienced unless you have done some big game saltwater fishing. I have stated before in past articles and reports, these big gerrards can honestly strip hundreds of feet off your reel in one run!!
This year was something a little different in that we would be staying with Don Linder and Tom Hugg from Montana in a rental house on Schroeder Creek. Those were the guys that turned us on to Schroeder a couple of years ago. Back in 2010 they banged a lot of big bows up in the north end of the lake. Don contacted me about doing a 19 LB. buck mount of his best gerrard of that trip and that is how we met. That was enough for us! Next year we all met there and we stayed in John's camper while they stayed in the rental house. That year, John popped several big bows to 19 LB. during our stay and Tom got into a beautiful 18 LB. hookjaw male to cap their trip. We had hoped to meet up there last year but it didn't work out so this was the year for the four of us to "hang" for a week in the rental house.
We all arrived around noon on Saturday and got settled in, launched boats and proceeded to hit the lake until dark. We caught some shaker bows but nothing of any size. The next day was a good chop and they hung around the north end and we went south a ways towards Kaslo. I had purchased a new Apex pattern in UV and put it out on top. In less than 10 minutes the drag was going off and I got on the rod to what I suspected was a bull trout by the way he dogged it out. You will know when you have a big gerrard on!! He turned out to be a 31 in. hookjaw bull and is the largest male bull I have caught to date. This time of year they are coming off the spawn and are usually on the skinny side after weeks of not eating. In John's net he weighed 13 Lb. which nets out to 11 Lb. After a couple of photos we dropped him back in to fatten up.
Overall it was a tough week with few signs of any kokanee showing either on the surface or the graph. On calm days, we would resort to pulling Lyman's or flasher/fly combos at depths of 100-130 feet for the bulls which are pretty easy to tag this time of year. I did get into another big male bull almost exactly the same size as the first a little later in the week on a Lyman at 110 feet. The highlight of our bull trout fishing came one calm afternoon when John had his line come out of the release and the drag goes off on his flasher/fly combo. He was using a Fin Junkie custom fly tied by Darren Scaife that resembled a kokanee. As it turned out, this was our best bull of the trip weighing right at 12 LB. and the big male taped out to 32 in. After a couple of photos he was released.

The sun sinks on the last afternoon. You can make out the ferry coming across the lake on the left side.
The big gerrards were really scarce at the north end of the lake this year. I talked with Brad Stubbs of Kootenaykingfisher Guide Service and he also confirmed what we had already experienced. Tough fishing for big bows so far this fall! On the last day at Schroeder, I finally had a screamer on that didn't stay hooked......at least there was one bigger bow in the northern waters! At this point we were really looking forward to the second week out of Balfour and fishing the middle of the lake out from the West Arm. Don and Tom faired no better than we did and left a day early to beat out some approaching nasty weather bringing the possibility of snow. They had a long trip home back to Montana. On Saturday we bid farewell to Randy Phipps at Schroeder and made the move down to Balfour to hook up with fellow "Brownbagger" and buddy, John "Krmp" Krmpotitch, for the second leg of the trip. With visions of giant jumping gerrards filling our heads, we made the hour drive down to the West Arm in hopes of banging some big bows as we had in years past.
Krmp met us at the Gill and Gift that morning before we got to our accommodations in Balfour. After we helped him load up on potentially killer flies and lures, we got our stuff into the room and had time to make a half day afternoon run out onto the lake. It was really cool to have John K. out with us. We had talked about him joining us before but things just never worked out.
We met years ago when he and Ron Carey came out to fish with me on some Central Oregon lakes to sample some of our brown trout back in the late 90's. A few years later, he and I made a trek to Pend Oreille to chase after the big gerrards that inhabit that renowned lake. Though we didn't get much action for big bows on that trip, I did tag a nice 15 LB. hen and lost a screamer late one morning. We so enjoyed each others company that we looked forward to fishing together again. That opportunity came back in 2006 when John took my grandson, Colin, my good buddy, Randy Wiyninger, and myself for a half day on Flaming Gorge to pursue some monster kokanee. It was a trip I will never forget as we caught almost two dozen kokanee before noon that averaged over 3 LB.!! The biggest was a 4.10 LB. toad that would have been the IGFA World Record for a 12 year old by over 2 Lbs. if we would have had a shorter leader than we did.
A storm had moved in on Sat. with light rain and for our efforts we only caught a few dinks that afternoon. On Sunday, we had our best day of the trip for bows over 10 LB. and it was Krmp with the hot hand. About 10:00 a.m. that morning he popped the first of three we caught that day. It hit on a Brownie # 226 fly off the board and gave him a nice workout for the next 10 minutes before we had the hen boat side. After some photos we slid her back in the water. Around noon his rod goes off again and this trout is almost a clone to his last.....a beautiful hen right in the 10 LB. range. Around 1:00 p.m. my rod goes off and I hit the third 10 LB. bow that day. In horse racing they call it a "Trifecta." We were now a little giddy and really pumped about the possibilities for some bigger bows!
To put the size of these trout into perspective, everything under 10 LB. is considered a "shaker" on lakes that contain the super strain gerrard rainbow trout. A 10 Lb. bow is just the beginning size of a decent rainbow on this lake. It really turned out to be a good bite on bigger bows that day. We found out via radio chatter that Mike Thompson of Split-Shot Charters had hit 18 and 19 LB. bows that afternoon and another boat had a big bow on estimated at over 20 Lb. for some time before we lost radio communication with them.
The next day produced another 10 LB. hen bow for Krmp that smacked a "hockey stick" or Apex as they refer to them in Canada. That was 4 bows in the 10 LB. range in a day and a half.....we were pumped at the potential to tag a really big one. Unfortunately, things got tougher not better for bigger bows over the next couple of days.
On Wed. morning we had our most exciting moment of the trip. I had just put out a Brownie # 213 "Halloween" fly. I had no sooner jokingly remarked to John that I was about to hook a monster, when my rods goes off. Krmp was standing in the back after just getting his rod out. As I jumped out from under the canopy to get my rod, John K. and I witnessed a huge red side male get 3-4 feet into the air over 400 feet behind the boat. When it hit the water, it was gone! If I hadn't caught a few of these big gerrards over the years, I would have been devastated about losing such a monster buck. I am not sure if it would have been over 20 LB. but after catching a 21 LB. hen I saw jump several times back in 1993 on Pend Oreille, I think it would have been close. I was glad Krmp had seen it as well so it wasn't just be another " big one that got away" story....this one was really a toad!!
We bid farewell to Krmp on Thurs. morning before we headed out. He had a long trip back to Wyoming and needed to get on the road with potential snow coming in that morning. It was a tough day for John W. and I as the rain moved in with some wind and poured all day. We tagged a few dinks but nothing of any size. Our last day, Friday, was the beginning day of the Kaslo Thanksgiving Derby that ran through the weekend. It was "do or die" time for a big bow for us. I had reminded John, in jest, that on two different trips for gerrards, I had pulled out the biggest of the trip on the last day. Once with a 21 LB. hen that barely beat my buddies 19.6 LB. hookjaw buck back in 1993 and then again with an 18 LB.+ hen that was caught 15 minutes before we were done on a week trip to Pend Oreille back in 2003 if I remember right. That fish just nudged by buddy, Steve Kelly's, 17 LB. hen caught earlier that trip. The fish would have won the Thanksgiving Fall derby by over 2 LBS. if I would have been in the derby!
As luck would have it, at 6:45 a.m. after just getting out, my rod goes off with a nice screamer bucking the rod. My Split-Shot Black/Pink/Gray with rainbow tinsel fly was tight into the jaw of a big gerrard melting line from my reel. With two big screamers lost earlier in the last two weeks, I just hoped it was hooked well! John cleared all the gear and board after a few nice runs and I settled back into the battle. After about 20 minutes, I had the nice red side hookjaw male right at the boat. As we often do with these trout, we dropped him into our 150 Qt. ice chest filled with water to revive him. After a couple of photos he was released to probably weigh over 20 LB. by this time next year. My best of the trip, he was over 15 LB. and near 33 in. in length. As it turned out, we later found out in a phone call from Ted Neal, I would have placed third in the Kaslo derby that ended on Sunday after we left. That would have put $1,000 in my pocket! That is two fish I have caught that would have placed in derbies.....maybe I ought to rethink entering these derbies! Honestly, I don't really care much about fishing in derbies for various reasons. For one, these fish are all killed and another is all the boat traffic generated on those days. I'm really only looking for the thrill of playing these big trout and perhaps landing a true monster some day! I happen to know a good taxidermist.
Overall it seemed as if the larger gerrards were scare this year at Kootenay Lake. We have heard some recent reports coming out of Lake Pend Oreille about the return of some monster gerrards showing again and are considering a fall trip up there in 2014. The upcoming LPOIC Thanksgiving Fall Derby will tell us more in a few weeks!
Tight Lines,
Rick