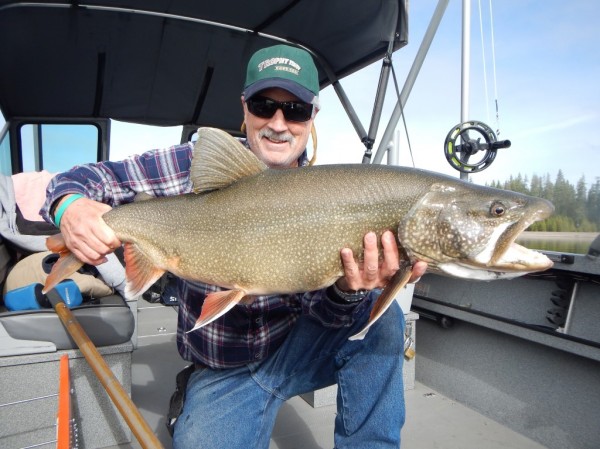 A nice mid-20 laker from Crescent.
Eight weeks after back surgery I am doing well but still not completely back to normal. I found out the hard way this week that lifting a big trout over 20 LBS. into the boat for a "selfie" may not have been the best idea!
I wanted to check out a couple of planer boards and a new rod so I decided to venture up to one of my favorite lakes on Wed. Crescent holds both big browns and lakers and is a little over an hour away for me. With gas prices now down about $1/gal. from spring it didn't hurt my wallet near as much as that laker hurt my back.
I didn't bust out very early and took my time getting up there. I was on the water at mid-morning and after figuring out that some lakers and kokanee seemed to be up at the northeast end I worked my way from Simax to Boy Scout. I was playing with equipment almost as much as I was fishing but did finally hit this nice "estimated" 22-24 LB. laker. I tried to weigh him in the net with my 30 LB. Boga but could only make out that it was almost "bottoming out" which included the 4 LB. weight of my net. As I stated earlier, my back made the whole process much harder than normal.
I worked the shallows to play with the boards but didn't get bit. The laker came off the downjigger at 55 feet in 85 feet of water towing a Rebel around kokanee schools. Only bite of the half day, but a good one!
Eric Norgaard and I will be up Pend Oreille next Fri. for a week chasing after big gerrards. He wanted to see the "board and fly drill" before we got up there so we went back up to Crescent on Fri. We did get up there much earlier and after the clouds lifted, had a beautiful day on the water. We did pull a board through the shallows and Eric hit a couple of rainbows on a new lure while my fly went unmolested. Most of the day was spent working riggers and we did hit a few lakers though no toads like the one Wed. Eric's best was this cool 13 LB. specimen with some crazy vermiculations, especially around the head......pretty fish! A little while later, he also popped this 11 LB. laker.
Later in the afternoon, I hit one around 10-11 LB. near the bottom at 100 feet on a 9 in. Shasta Tackle Slingblade and one of Darren's flies. I thought he was ready to come up after I slowly worked him from the depths to the top. We saw the bubbles coming from him about 20 feet down and thought he had adjusted his air bladder but he hadn't completely. He was bobbing on top like a cork when we got him up. We decided to connect the Boga-grip to the downrigger ball and took him back down to 50 feet and put the boat in gear at super slow speed. We adjusted the rigger up about 10 feet in intervals until we slowly worked him back to the top. It did the trick and we were able to easily release him.
With my back aching and it getting near the hour we had decided to quit, we pulled out about a half hour early and headed home before dark.
Look for some Pend Oreille reports coming soon......
Screamin' Drags,
Rick