Eric with the best of the trip.....13.5 Lb. buck we released. Congrats buddy!
At my 20 year High School Reunion way back in 1987, I reconnected with John Dennington. John and I went from kindergarten clear through High School together and my first job was working for his Mom at a Security National Bank in Rialto back in 1968. That night he mentioned that he lived up in Sandpoint at the top of Lake Pend Oreille in the Idaho panhandle 60 miles from Canada. As we got to talking, he told me that lake was the World Record holder for the rainbow trout caught back in 1947. A 37 LB. monster was caught by Wes Hamlett and that put the lake on the map!
As it turned out, the gerrard rainbows (also called Kams back then) that were imported from Kootenay Lake in BC were doing fantastic in PO and within a few years produced the record. These are the largest wild rainbows in the world and almost unique to the two aforementioned giant lakes. They are later in life spawners and get really big gorging on kokanee which populate both lakes.
That was all it took for me......in 1990 I made my way north from California that winter to stay with John and chase these big bows. That was the beginning of my love affair with these biggest of bows. Over the years I was lucky enough to catch some nice bows up to 21 LB..
Fast forward to a week ago from last Fri., the 30th of Oct. Eric and I got up at 3:00 a.m. to head up to PO for the second year in a row. With visions of big gerrards dancing in our heads, we made our way up to Biggs Junction on the Columbia for breakfast. The trip takes around 9 hours with gas and food stops and we wanted to get out for some action that afternoon before we checked into the Pend Oreille Shores Resort.....the best place to stay if you venture up for a trip to the lake.
After a stop at Black Sheep in Coeur díAlene for gas and licenses, we finally made it out on the water around 2:00 p.m. It turned out to be only a shakedown run as we stayed up by the islands until dark. We made our way to the resort early that evening and got checked in. We knew there was going to be a big front that was coming in just in time for the Halloween Derby put on by the Captains Table in Garfield Bay.
It wasnít too bad that first morning but by mid day the wind picked up and it was tough to even fish. We did hit some shakers but nothing to write home about. Sunday was more of the same except by the time we left the Monarchs and headed back towards the islands across the Clark Fork it got crazy. We flipped a board and by the time we got everything buttoned down, it was howling and the swells coming out of the west were up to 4 feet! We had about 2 miles to go through some of the nastiest water I have ever been in. It was so rough we took the boat back to Ellisport Bay to hang out for the rest of the afternoon at the condo. We knew this was blowing out and the weather improving for the rest of the week.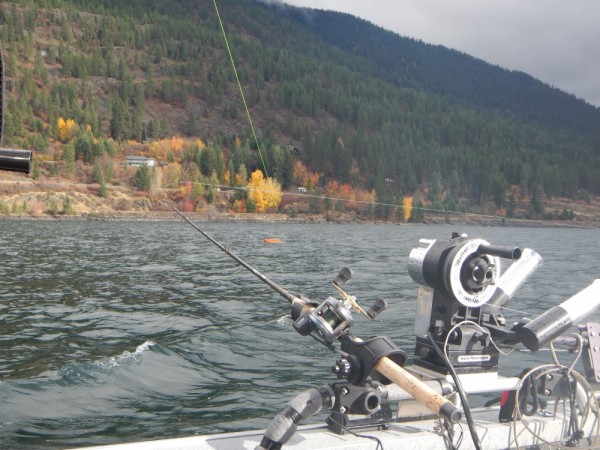 Pulling flies toward the Pack River area.
Monday was great conditions with cloudy skies and a nice chop......perfect fly water! Around 7:45 a.m., I finally had a good hit right out from Camp Bay. After some give and take, I had the 12 LB. buck right up behind the boat for Eric to net. After a few photos, we dropped him back to get bigger. We hit several bows that day but most were small.
On Tues. it was also good conditions with clouds and good chop. Eric finally got on the board with a better fish right at 9 LB. I got an 8 LB. hen later that morning that we both thought had to be much bigger the way it took off with the fly. It was a real screamer and we were both surprised when we finally got her up.
Wed. was the best day of the trip by far. I hit another 12 LB. buck and then Eric followed with a 7 LB. hen in the same area we had been working around Camp Bay toward Mineral Point. Later that afternoon, Ericís rod goes off with the best trout of the trip. He was running a gray ghost fly and the 13.5 LB. buck inhaled it. After a few photos we dropped him back.
On Thurs. it was a little more wind and we worked the same areas we had been hitting the bows but it was a slower day for sure. Later that evening on our way back toward Pearl Island, Ericís rod goes over hard with the drag screaming. He had just changed out his fly and put out a Sonny Boy that did the trick. The nice buck fought hard near the boat and it took us a little longer to finally get him where we could get the net under him. It was right at 13 LB. and released like all of the trout we hooked that week.
We made the decision to stay for a few hours on Fri. morning before heading home. We banged a few dinks and then around 10:00 a.m., my rod started bouncing after coming out of the clip with the drag started to sing. After a short surge, it went slack and I knew I was chewed off.....sure enough, nothing but line when I reeled up. Around noon we headed in and broke the boat down for the ride home.
It was a much better year than last with (4) nice bows going 12, 12, 13 and 13.5 LB.. The Seagull boated a monster on Wed. that weighed 24.4 LBS. and was 37 in. long. Nick Calia hit a nice buck earlier in the week over at the Monarchs and we heard about another big bow around 20 LB.!
It looks like a trip back up next year is in the works......
Screaminí Drags,
Rick