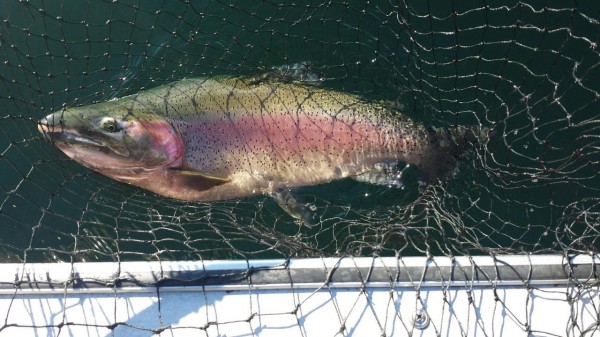 The beast is in the net!
October 17-25
Back in 1990 I saw a picture in Parks Sportsman in Orem, UT that had the words "Gerrard Rainbow" on the back. I spent 4 years figuring out where the picture originated and took my first trip to North Idaho with my dad Kenneth Cluff and my little 14 foot Gregor. We spent 4 days trolling but not really fishing as I quickly learned this was not your ordinary lake. I met some good friends that I still know to this day and over the years figured out this unique place. It was a great trip with my dad and we made some great memories.
On Oct 16th my son Braden and I headed back north to fish the big lake for Gerrard Rainbows. We left Lehi, UT Friday afternoon and made it just past Missoula where we called it a night and slept in the camper. The next day we picked up our licenses at the Fins and Feathers in Coeur d'Alene. We made our way to Hope, ID. where we stayed at Pend Oreille Shores a couple nights and in my camper the rest of the time. With our stay at the condos I got a pass for the athletic club for the entire week which meant showers and hot tub nightly. We fished Sunday in my Lund and Braden caught a few small fish followed by a nice 13lb Gerrard Hen that we released.
I booked a Charter with Ken on Seagull Charters on Monday so I could relax and maybe get Braden on a big fish before he had to leave. Ken is a awesome Guide and we had great conversation. We got a couple blue backs and a nice 11lb Hen that Braden reeled in and Ken quickly released.
Monday night we drove to Spokane and stayed in the camper near the airport. Braden boarded a 6AM flight Tuesday so he could return to work. I dashed back to Hope and started fishing about 8:00AM. I fished solo that day and hooked my biggest Gerrard to date at 23 pounds around 2:15PM. It was a feisty fish that had my full attention the entire 45 minute fight. It made some great runs and had me a little nervous a few times on my ABU Garcia 6500 spooled with 14lb. Sunline Flourocarbon leader followed by 20lb Seagaur flourocarbon. The big fish hit a black/white polar bear streamer fly. I had just let 75 feet of line out the back and had snapped it to the planer board release on the tow line. As I was letting the line out I saw a nice boil behind the boat in the prop wash. I wondered "did that fish just hit my fly?". Then the line went tight and out of instinct I engaged the reel and checked the drag. The fish made a few runs out the back but then went deep. I'm guessing 400+ feet under the boat. I kept the kicker in gear and the fish eventually came back up. It was a little hectic pulling in the lines and planer board and netting solo but it all ended well. Being solo I got the best pics I could. I weighed it and prepared it to take to my local Taxidermist (Stu Blockoff in Naples, ID).
The next evening I met "Dusty" Flamond at the dock.. After exchanging some info we hit it off being we are both Engineers and had a passion for the big lake. I got invited to fish the next day with Dusty on his boat the "SS Firewater". I had a great day with Dusty and heard a lot of stories about the good o'le days on the lake. His favorite all time lure is the black/white Apex. Although we caught several small fish on a different color that day …. I'm sworn to secrecy but he disappeared under the cabin for 30 minutes and emerged with a second Apex in that color after looking through several tackle boxes.
I fished off and on the rest of the week but the weather was mild and the water flat. Not much to report other than the Café in Clark Fork had amazing Prime Rib on Saturday night as the special! Also the Pizza joint in Hope just down from the post office had a great Combo. Thanks Olivia!
I'm hoping my FB friend Rick Arnold will get some double digit fish next week on his trip! Good luck Buddy.
Ken