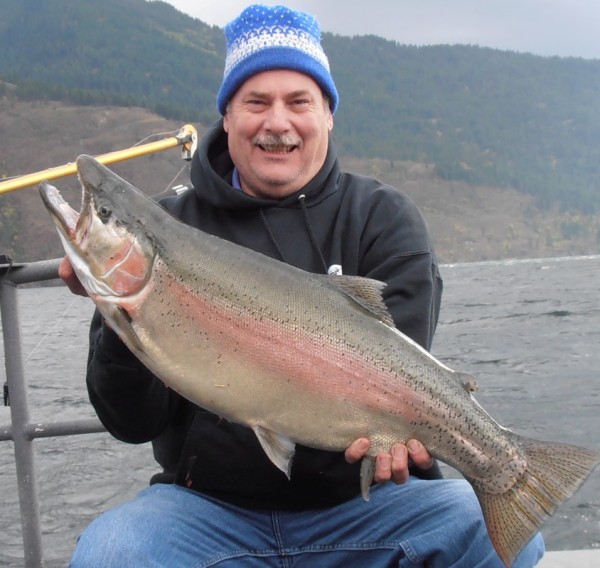 A nice fat gerrard for Ed Dickson of Diamond Charters on Lake Pend Oreille. Estimated at around 18 LB.! Looks like the big gerrards are making a comeback at PO!
Hello from Diamond Charters,
This year has been amazing! After so many years of a sharp decline in the Kokanee population, this year we have been blessed with a population explosion! They literally covered the top of the Lake from end to end!
Consequently, the Rainbow Trout have had a food surplus and have grown exponentially. They once again are looking like the STOP SIGN configurations of old, and even the five to ten pounders are again a feisty fish. Itís amazing what a good diet can do to the Gerrard Rainbow, and how fast they grow! The fish this Spring that were 2-3 pounds are now our 5-7 pounders. In addition we just stocked 15,000 Pure Strain Gerrard fingerlings this fall and we expect to have these fish on line in the next couple of years as the original stock in 1942 of 20,000 reached 36 pounds in four years!
Anyway this email is being generated because you either booked a Charter with me or showed interest in when the best time of year is to go fishing on Lake Pend Orielle is, and it has come early and should last through the end of November possibly into the early part of December.
Over the years 85% of our 25# trout have been Fall Fish, so if you have any interest in fishing in the next 45 days I am offering a 10% discount to anyone responding to this email for a booking in that time frame!
Thanks to those of you who have fished with me and welcome aboard those who missed out, I was going to attach some currant photos but realized that some filters might block the message so I have kept it simple.
Call me at 1-800-4TROUT6 or cell to cell # 1-208-290-1877
Ed Dickson <> Diamond Charters
www.diamondcharters.com