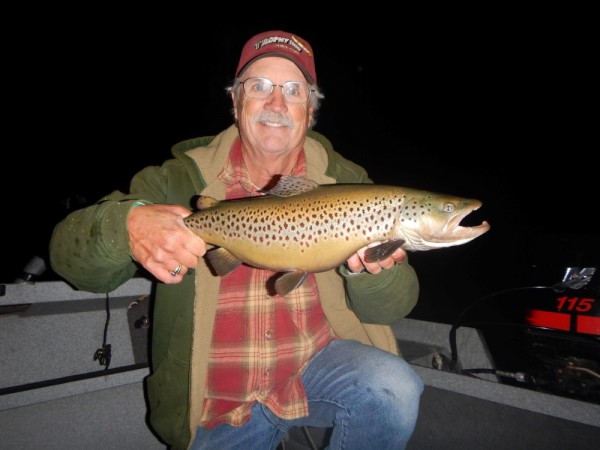 A short fat 6 LB. hookjaw hit right at dark.
With only a week before Paulina closes for the year, I made my way up to the lake last Thurs. evening to chase after some browns. I had planned to fish that eve, stay overnight, and then hit it the next morning.
I arrived at 5:00 and only had a couple of hours before dark. This time of year the spawning class of browns will make their way into the shallows to attempt to spawn. In Paulina they don't spawn but will go through a "false spawn" as they establish territories and go through the motions. They don't often hit a bait to eat it but will occasionally hit out of aggression.
A couple of weeks earlier I did hit a nice 9 LB. hookjaw and over the years, some of my Brownbagger buddies have hit some really big browns in the Fall. Gordon and Ed Hahn caught 15, 19 and 22 LB. monsters several years ago. Dan Stewart caught 13 and 14 LB. hookjaws just a week apart one Fall and Jim Bringhurst caught an 18 LB. from Lower Twin many years ago. I lost a big hookjaw back in 2004 and that was the best Fall brown I have had on over the years.
I primarily work the shallows and rip baits to entice a strike. I was hitting some dinks and then right before I got off at dark, I had this beautiful, fat hookjaw grab my lure. After a good photo, I dropped him back.
I headed in and had dinner and then got ready for the night. It was clear and at 6300 Ft. it can get cold up in the Crater this time of year. At 8:00 when I hit the bag, it was already freezing outside and I knew it would get down that night. Early the next morning I made my way down to the boat and started the engines to warm them. With ice pretty much covering everything, I went back to the truck cab to run the heater for a little bit....the outside temp gauge said 19 degrees!
When I got out, I immediately had a hit and then caught the first brown. Most of the ones I hit that morning where dinks in the 13-15 In. class. I did finally hit a nice 3 Lb. hookjaw that was around 21 in. They are all so beautiful in their Fall spawning colors. Around noon I threw in the towel because I had some things to take care of at home that afternoon. I will probably make it back up this next week for a day before the closure and our trip up to PO the week after. Stay tuned for that!
Tight Lines,
Rick