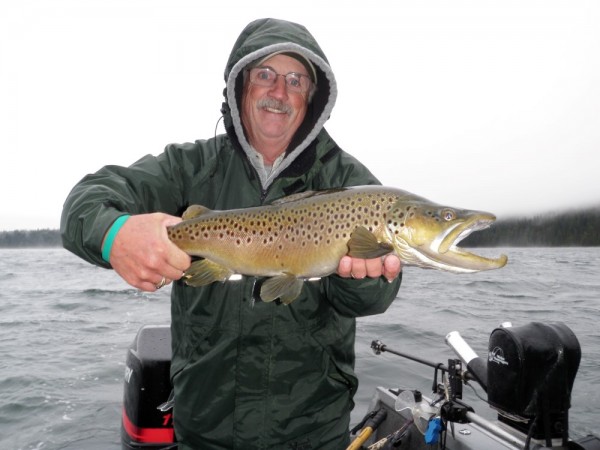 A nice hookjaw male was our reward that morning!
I had the chance to get out with an old fishing buddy this past week. Steve Kelly and I fished together a lot over the last decade until these past few years. Steve had been in Montana and just returned this summer. We had an opportunity to fish Paulina this past weekend so Steve pulled my boat while I hauled my trailer up the hill Fri. afternoon. Unfortunately, the weather forecast, which was very favorable earlier in the week, turned bad by Fri. evening when we arrived. A high wind advisory and good rain percentage materialized much earlier than originally forecast.
After we got set up we headed out for about an hour before dark. We did pop about a half dozen browns to 3 LB. before we got off. The next morning was full cloud cover with a little more wind than we like. Another 3-4 smaller browns came early and then around 9:30, while working one of my favorite runs, I got hit hard while flat lining an Excalibur Minnow over 20 feet of water. The wind was pushing us hard so I hung on and Steve got out of the way. I knew it was either a toad or a nice trout foul hooked. I had a hard time retrieving line so we hung a big slow circle doubling back so I could stay tight and gather some line which was nearly impossible going down wind.
I had no idea what it was for sure but when it got within 50 feet it charged off again. It didnít feel like it had the weight I was hoping so I was guessing that it was foul hooked. When I got the nice male to the top, we could see that it was hooked right in the dorsal which allows the trout to run hard when it likes and usually feels like twice the actual weight. He was a short but well developed buck and I wanted a photo so Steve netted it for me. Turned out to be a stocky brown in the 6 Lb. range with a nice set of jaws and starting to develop his spawning colors. After A couple of photos I dropped him back to chase the girls.
Sat. evening was really getting windy and we did bang a couple more smaller browns before the rain came in with a vengeance. We decided to get off and head down to Ponderosa Piazza at Wickiup Junction to eat and watch the Ducks game. By the time we got back to the trailer that evening it was pouring rain. During the night it turned to snow and when we awoke, the wind was howling with snow blowing sideways. It was an easy call to eat breakfast and head home a little earlier than planned. I left my trailer there and will be back up this week hoping to run into one of the big spawners that come shallow this time of year.
Check back for that report next week.
Tight Lines,
Rick