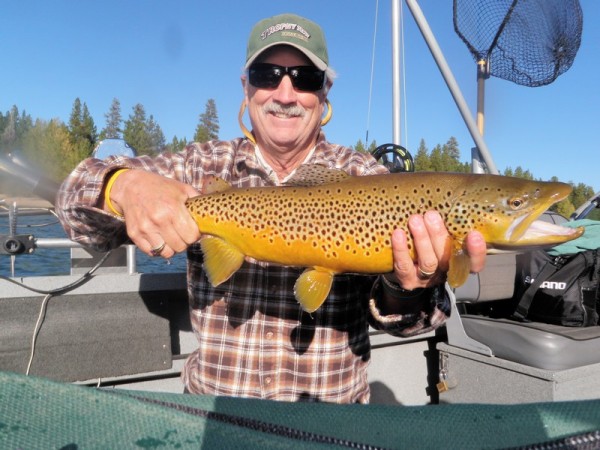 The males are starting to get into those gorgeous golden colorations prior to spawning.
I found myself with an open afternoon and it was an easy choice on where to go fishing. Wickiup has been good the last couple of weeks as the browns are making their move up to stage prior to the spawn. I got on the lake in the early afternoon and was glad to see a good chop from the wind increase they had forecast. There was supposed to be a cold front moving in today and the temp drop and wind seemed to confirm that the weatherman got it right this time. The water temps have dropped another 3 degrees since last week and with cooler nights and shorter days they will continue to drop.
My first brown was a 4 LB. hen that put up a good fight. Since I was by myself I decided not to film anything less than 5 LB. It is a little bit of a drill to do the self timer so I dropped her back to produce some babies this next year. The next brown was a nice male in the 6 LB. class and I did set up and film him. He was turning into the deeper yellow/gold that they get as they near the spawn.
As the sun got lower the bite got better. Between 5 and 7 P.M. I got 4 more browns and they were all 4-6 LB. With the water cooling, they seem to fight really well as 3 of them got into the air after initial runs. Browns in general donít jump very often but many of the ones I have caught in the last couple of weeks got in the air......so cool to see! I ended up with a total of 6 browns from 4-6 LB. and they all released just fine. Nothing real big but quality browns for sure!
I will be out this coming weekend as I promised Dave Rossberg a trip before summer was gone. Look for the report to follow.
Tight Lines,
Rick