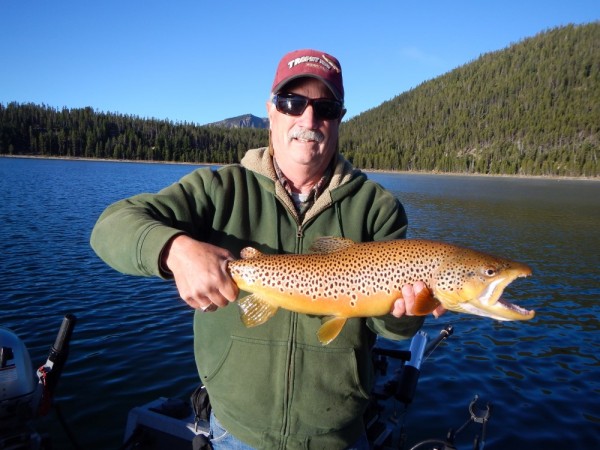 Gorgeous male in full spawning colors!
At my age, summers seem to pass like a few weeks used too. This one is already over and though Fall isnít officially here, you can definitely feel it in the air up here in Central Oregon. We had our first front come through the end of this last week and it even produced a dusting up over 6500 feet. This is probably my favorite season so I will enjoy the next couple of months!
My buddy, Steve Kroll, and I decided to hook up at East lake this past Thurs. right before the labor day crowd arrived on Fri. We were on the water at first light and I was amazed that the lake surface water temp had dropped 5 degrees ( from 64 to 59) in a little over a week from when I was there last. Another sign that fall is here! It was right around 33 degrees outside so we were dressing a little warmer than the past few trips.
The fish were still in the thermocline and ranged from 30 to 45 feet on the graph. We hit several of my favorite runs and caught probably 9-10 browns before my Remote-Troll cable snapped and we had to get out to put on a new one. I seem to have to do it about once a year. Unfortunately, I have to pull my boat to change it but it is a simple job once I get out. We decided to have a late breakfast after that so we hit the Lodge for biscuits and gravy before venturing out for round two.
It was definitely slowing down when we got back out and the breeze was stiffening a bit as the the front was pulling in. I guess it was around 2:00 p.m. when we got off. I think we finished up with 12 browns and the best two went 4 and 6 LBS. The colors are getting rich on them as the spawn approaches. Nothing quite like the browns in full spawning colors!!
I will concentrating on many of our lakes over the next several weeks so check back soon.......
Screaminí Drags,
Rick