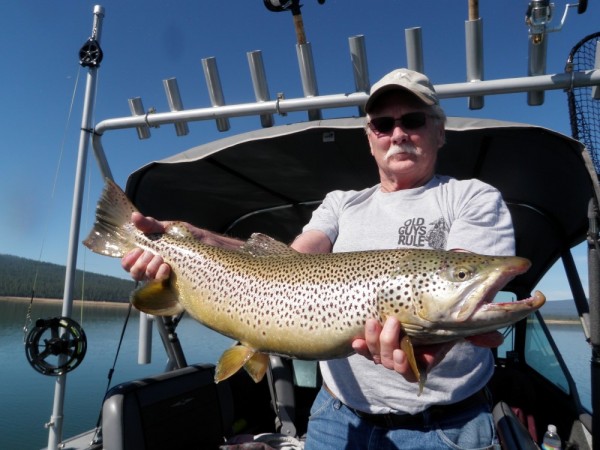 It was really cool to put my buddy, Jerry Hellmers, onto his best brown trout to date. This killer hookjaw was just short of 9 LB.!
I can't believe it is almost over! At my age, the seasons and years roll by quickly anymore! Here In Central Oregon, we often wait for a long time for summer to actually get here and then always bemoan when it is over too quickly! Luckily, we usually have beautiful fall weather right through the end of Oct. so there is still some great fishing ahead with less crowds.
I had a chance to get back up to Wickiup before the Labor Day Weekend "madness" started. I took my buddy, Jerry Hellmers, and we hit it this past Wed. morning and fished until noon. I did see my friend, Chuck Jones, who had been up there the preceding 10 days. He said it had been tough for bigger browns for him. I believe he said he had a 7 LB. brown for his biggest. There were several of the better brown trout sticks there as well including Ryan Daniels and his Dad. I saw Tim Friese for the first time in about 7-8 years. I first met Tim when he hooked his first brown over 10 LB. at Paulina Lake. There were quite a few guys from California and Oregon who knew how to bang the bigger browns.
There were actually too many boats for me in the area we started to fish so we moved to another run I like that is usually productive. By the time we had made the move, it was around 9:00 a.m. and had flattened out. We had no one around until Chuck arrived a little later.
On our first pass the rod popped out of the downrigger release and Jerry was fast to what turned out to be a 5 LB. hen. Not a bad start! That was followed by a dink and then about a half hour after that his rod goes off again. We both saw it jump about 200 feet back and I wondered if it was a brown. When we got it close, I could make out the chrome and pink lateral line of a beautiful native, redside, hen rainbow. We don't see as many of them when we are targeting browns but there are some nice ones in there. He decided he wanted to take it home so we dropped her into the ice chest.
Around 10:30 his rod goes over again and this time we could tell by the weight and rod load this was a better brown for sure. It stayed deep and dogged it until we had it about 2/3 of the way in. When it did come up we could see it was a nice hookjaw male. I got the net and slid it under what turned out to be his personal best brown trout between 8.5-9 LB. as we weighed it in my net (after allowing for the net weight). He had caught one around 5 LB. at East Lake with me earlier in the summer when our families had camped there for a few days back in July. I told him if we could get out again at Wickiup during "primetime" this summer we could probably better that. I jokingly told him that getting from 5 to 9 LB. wasn't too tough but after that all bets are off on topping 9 LB. The odds of getting a brown over 10 LB. go up exponentially and that he may fish the rest of his life and not get one.
It was a good morning with 4 trout in an hour and a half bite window before it shut off. I will probably be back out this next week sometime and may hit some other lakes as well soon.
I look forward to the fall season now with less crowds as many guys change gears and get into hunting.
Tight Lines,
Rick