After a good outing the previous week, I knew I had better get back up to Wickiup. The late summer pattern had developed and I was looking forward to getting into some bigger browns before it is over. This is the time of year that pre-spawn browns begin to congregate and become more aggressive.
I decided to spend a couple of days and invited one of my fishing buddies, Tom Staley, to join me one afternoon. My uncle, Dick Arnold, also came up the next day to sample some of the best fishing the season can offer. We did well both days with some killer fish!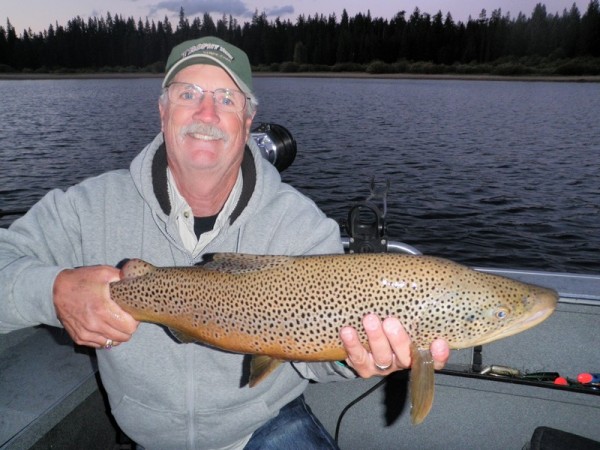 Best brown of the trip was pushing 9 LB.!
Chuck Jones was still there and we had a chance to do dinner together over at Gordyís one evening. I wanted to hear more about the story of his boat being stolen off I-5 last season after he had a flat tire and temporarily left it on the shoulder. Chuck and I go way back to the 90ís and love to reminisce about some of the big browns we have landed and lost over the years. He is one of the most accomplished big brown anglers I know.
The first evening I got up there was a memorable one as I probably lost a brown exceeding 10 LB. while making a trolling run through one of my favorite spots. The sun was sinking and I had just run over a hump along a stretch of 14 foot water. As I was watching the sticklebacks popping the surface close to shore, my forward sweeping stroke of the rod was stopped by a vicious grab. At first the drag took off in a slow streaky run that increased to a fast smoking scream as the big brown picked up momentum. I scrabbled to the kicker to get it slowed down and out of gear. Right then the fat hen tried to get out of the water in a failed attempt to jump. I could make out that she was pretty girthy as only the first third of her body wriggled out of the water. Though she couldnít get completely into the air, she did mange to through my plug. I sat back and took some deep breathes....you only get so many of these bruisers on in a lifetime!
The next morning I picked up some nice browns to 7 LB. before Tom made it up that afternoon to fish with me until dark. It was a great evening with both of us getting into some quality browns. Tomís best was around 6 LB. and I got into a couple of nice ones of 8 LB. and another close to 9 LB. right in the last hour of the evening. Tom had brought me some Elk Summer Sausage and I sent him home with a couple of nice browns for the smoker......seems like a fair trade!
The next morning was slow but got better in the afternoon. I picked up a beautiful 8 LB.+ hookjaw right before my uncle showed up for his evening run with me. Though not as good as the evening before with Tom, we did mange to get him a couple of nice browns for Dick to eat and I did have another big fish get off. That was two in two days! One of the highlights of that evening was a beautiful 5 LB. redside I picked up. You donít see that many any more. They are native as ODFW does not stock them.
FYI, the Deschutes Arm closure took place on 9-1 so fishing is limited to the lake below the ODFW boundary buoys.
Screaminí Drags,
Rick