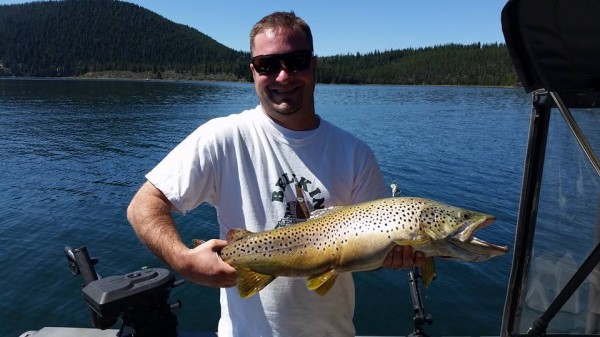 Court with the best brown of the trip at 8 LBS.
The fires surrounding Central Oregon have really affected our air quality these past few weeks. Depending on the wind direction, it could be clear one day and then you canít see the mountains the next day!
I got a call from my buddy, Eric Cole, last week after he and his buddy, Court Hyder, spent a couple of days fishing East the week before. It was a good outing and they did hit a few nice browns. The trout and bait are both still in the thermocline and the bites seem to come from 30-45 feet off riggers pulling lures that represent the forage of the lake. In East, tui chub, kokanee and rainbow patterns seem to always work well. Eric said his Dadís A/C custom in a kokanee pattern wrung up most of the browns. Courtís biggest brown came on it at over 40 feet down.
I made a trip up to East this past week to meet up with Andy Rose, who was up for a late summer trip. He beat me out as I remembered I needed to gas up before I took off and had to wait for a gas station to open. I finally got out around 7:00 a.m. and talked with Andy in his boat on the water. He had been out since around 6:00 and had caught (3) smaller browns to around 3 LB. I worked a few runs I like and managed to hit (3) smaller browns before we got off for a late morning breakfast at the resort around 10:00.
Andy was going to stay on at East for the rest of the morning and I had decided to head down to Wickiup for the rest of the day. I knew Chuck Jones would still be there and I wanted to see him again before we took off for home. On my way down the hill, Eric called to say his dad, Allan, was at Wickiup. I guess we must have passed each other as I was heading down and he made his way up to East. We never did connect.
The smoke was so bad that afternoon that it looked like a hazy fog and it was hard to make out the nearby mountains. After I had an afternoon nap in the back of my rig, I went out to fish for the rest of the day. As I had stated the week before, the ramp was no longer useable but I was able to get my boat off the shore right next to it on a deeper drop off.
I could see Chuckís boat out in the main channel and made my way over to chat with him. He said it had been pretty slow since we fished together the week before. His numbers were down from previous years and his best was around 5 LB. I decided to head out and work the channel outside early and finish up in Gull Point bay for the evening. The water up the Deschutes Arm was so low it wasnít worth the trip up there to fish it.
I got one a little over 4 LB. at 30 feet and then had two short strikes before I came back in for the evening bite. I did hit one around 5 LB. and then got a 6 LB. male that didnít make it so I cleaned him for my uncle who has been recuperating from some surgery. That was the first brown I have killed this season.
As I pulled the boat out later in the evening, I realized I wouldnít be back to Wickiup this year.......it is just too tough to get my boat in and the quality of fishing is off from years past.
I will be hitting East and Paulina until the season ends and plan on a possible trip to Pyramid in Nevada in Oct. and then back up to Pend Oreille in Nov. to chase some big gerrards.
Tight Lines,
Rick