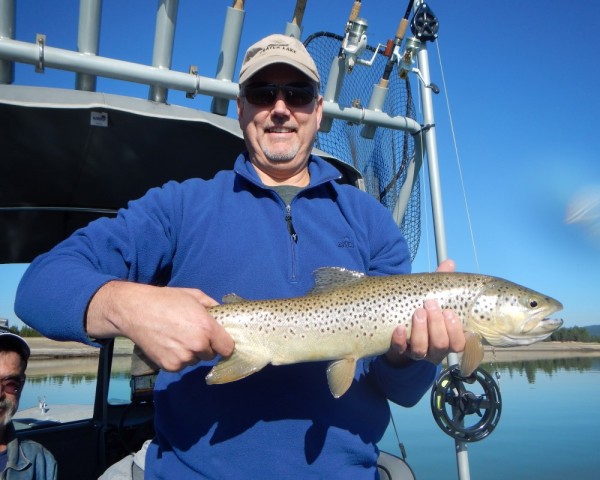 The best of the morning was this 4 LB.+ hen.
Seems like summer can't get here fast enough for those of us that live in Central Oregon. But at my age, it flies by faster than a speeding bullet!! Here we are in Sept. already! As I stated in my last report of Aug. 24, the fishing for browns at Wickiup is not what we expected this year. I had an old guide client from my days at Paulina, Andy Rose, come up from Arizona for a week and he did fish with me for part of 2 days.
I met Andy Mon. night and I showed him the "wind drift" drill we like to employ when conditions are right. We had enough breeze but unfortunately, the browns have not have not been up in the arm like years past. If I remember right we had some hits and I caught a small one. The next morning we went to another area of the lake and fished deeper with riggers and lead. Again, we only scratched out a dink or two but nothing noteworthy. It was pretty much a "shakedown" drill for him as I was giving him some instruction on how and where to fish for the rest of his week.....and hopefully, not find too many stumps!
The next morning I met Perry Warn and Darrell Field for a morning outing. As we were heading out to the main lake, I saw Andy and pulled over to see how he had done the evening before and that morning. He pulled out a nice 4 LB. hen brown that he had picked up earlier that morning. After I took a photo of him, we headed out to see what we could do.
It was a little better than the previous day as we stuck 4 browns to around 4.5 LB. Darrell had the best fish and Perry had one right to the boat that wanted nothing to do with us. It made a frantic jump right behind the stern and made his escape without a hand on him. We had two other strikes but neither stay hooked long. I talked with buddy, Chuck Jones, that morning and he was very disappointed in his two weeks at the "Wick." The numbers and quality of browns were way down from years past. He did say he had one on that felt pretty good that got off. Hopefully, we will see each other again next spring. I took the guys in at noon and got ready to pull the trailer home.......my two weeks were up!
On Thurs. morning back in Bend, my cell phone goes off with a text message notice. When I checked it, a photo of fellow Brownbagger, John Hofferd, appeared holding a nice hookjaw brown. I made a call to him to congratulate him and get some details. He is down in California visiting a buddy and they were out fishing when he hit this 11 LB. 3 oz. buck while fishing ultra light gear with 4 LB. test line. The big buck hit a tube jig in 38 feet of water. To protect its identity, the lake shall remain nameless.
This past week was my "wind down" for the summer. I will be facing back surgery next week and will be out of circulation on the fishing scene for awhile. I do have some articles and reports coming up that I hope you will enjoy.
Tight Lines,
Rick