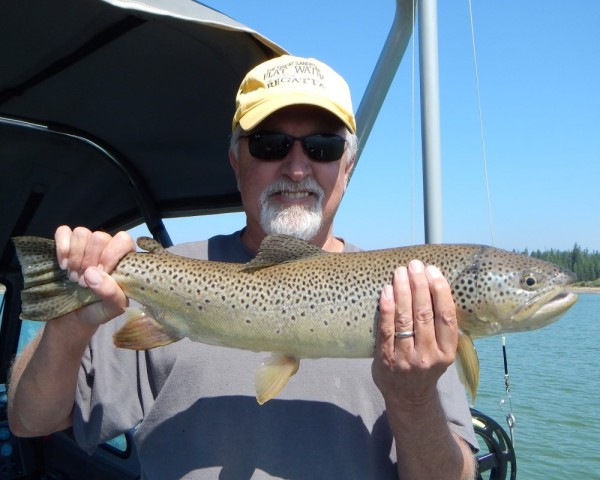 Gary Hobson with a 5 LB. hen. For as long as it was, in years past this brown would have weighed much more.
I have lived long enough to see many lakes go through up and down cycles over the last 45 years, most of my adulthood. When I became aware of Flaming Gorge in Utah/Wyoming in the early 80's, it was just beginning a long slide from the best trophy brown trout lake in the country to an up and coming trophy lake trout lake. Even though it can still kick out the occasional 40 LB. laker, most who have seen both cycles would prefer to catch the 20 LB.+ browns that made it famous. Sadly, that will more than likely, never happen again. The smallmouth bass and lake trout decimated the massive chub forage base and along with it, the demise of the monster browns which included the World Record 33 LB.+ hen caught by Bob Bringhurst back in 1977.
I first fished Pend Oreille for the giant gerrard rainbows back in 1990 and have seen at least 3 cycles including what appears to be a recent return to form with the return of kokanee stocks numbering over 100 million and not seen in decades. A 27 LB. buck was caught at the Halloween Derby a couple of years ago and last years Thanksgiving Fall Derby produced 23 LB.+ bows for first and second place. I will be heading back up there for the first time since 2006 later this fall to see for myself.
I knew a little about Kootenay Lake up in BC from friends that fished it and witnessed first hand the boom and bust cycles through the early 2000's. I was up there in 2007 and over the next 5 years we saw good numbers on 20 LB.+ gerrards winning derbies and thrilling enthusiastic anglers who knew just how amazing these big bows really are. Just this last year, it appears that the trend might be reversing again, I hope not....time will tell.
Lake Diefenbaker which produced the World Record rainbow of 43.6 LB. back in 2007 and then topped that by a 48 LB. beast put Adam and Sean Konrad in the record books and on the map. This perpetuated and brought to light that cycle of massive triploid fingerling rainbows that escaped into the lake to the tune of 500,000 trout a decade before but eventually died off. Though that fishery is still viable for both big browns and rainbows and the fishinggeeks still guide on the lake, it is not what it once was for the big 30-40 LB.+ rainbows.
One of my favorite lakes, that I stumbled onto upon my arrival to Central Oregon back in 1995, was the 6 mile long impoundment below Lake Billy Chinook known as Lake Simtustus. I first read about it in an article by Brook Snavely, a then anchor man for our local TV station and big time trout junkie. He revealed that not only did the lake tie the state record for rainbow trout with a 24 LB. behemoth but could kick out browns exceeding 10 LB. with some regularity if you knew where, when and how to fish for them. My actual first brown over 10 LB. came back in the late 90's but, as I later found out, the scale I was using was actually about 1/2 Lb. light so the 9.75 LB. hen brown is not counted.
I caught lots of 5-9 LB. browns and rainbows from there until the brown trout stocking program ended in the late 90's and with it the loss of one of the better trophy brown fisheries here in the state. I haven't fished it in over 10 years now.
It is often sad to observe but the course of nature and man's effect on fisheries seems to play out in cycles over and over again....it is just the way things are. As Jimi Hendrix so succinctly put it in his early classic rock song "Third Stone from the Sun," and I quote" You'll never hear surf music again!" He was right, we never did......and music changed.
This past week while staying up at Wickiup, I saw what I am suspecting is a down cycle on the lake for the brown trout. This reservoir is our "brown trout factory" and where ODFW takes the eggs for the brown stocks that are planted throughout all of our Central Oregon lakes that have browns. I have fished it every summer for 19 years now and never seen it so bad as this year. I could always count on it for good numbers of quality browns from 5-9 LB. each summer from the end of July on through the middle of Sept. some years. I am alarmed at what I am seeing so far and it isn't just me who sees the changes taking place. Friends, Chuck Jones and Oscar Hoffman have probably fished it for over 70 years between the two of them. They are not doing well and observing the same thing I am.
The browns I have been catching are long and lean and weigh much less than they normally would and have in years past. Also, we are not catching even close to the numbers we usually do. In the early 2000's I counted for myself photos of brown trout over 10 LB. on the walls of the Twin Lakes Resort. It was over 80 that year and many of the years before and after were similar results. As far as I know, there have been maybe 5-10 verifiable browns over 10 LB. so far this year. Here is my theory and I hope I am wrong. First of all, bass that were illegally introduced into Crane Prairie back in the 80's now inhabit the lake in large numbers. Add to that the introduction of brown bullhead catfish used for bait that now have overtaken the lake. Both of these predators, along with the brown trout and native red side rainbows have now hammered the forage base to possibly such low levels that it is not sustainable. We once saw lots of chubs......no longer! We once saw lots of Sticklebacks.....no longer! We once saw large schools of fry and fingerling kokanee spraying the surface this time of year.....no longer!
Even though the kokanee numbers have been fairly good for large ones that last two years, I don't see much evidence of the 0-1 and 1-2 year class of fish......anywhere! I seems like we are heading into a "Perfect Storm"and we all know how that ended. I sure hope I am wrong. I will be meeting with ODFW later in Sept. to give them the data I am collecting.
On a brighter note, I did fish with an old high school buddy, Gary Hobson, last Monday and we had a blast getting reacquainted after 45 years since we had seen each other last. We did mange to get a big kokanee and a nice but lean brown the day we were out. The following day I had the old youth pastor for the Porterville Nazarene Church when we lived there in the 80's. We also had a great time retelling the old stories from that era and fishing. We got a couple of smaller browns if I remember right. My neighbor, John, joined me on another day and we got a nice rainbow and a smaller brown as well. As I stated earlier, fishing was much tougher than years past.
I will be back up there for most of this next week and hope things will turn around......look for my next report to find out!
Screamin' Drags,
Rick