We just got back from our annual Upper Klamath Lake trip. We fished it 5 days. It was outstanding. We got lucky and had a few storms push through which brought out some of the bigger fish. We had a few days with 25+ fish... The fish averaged 1 1/2 lbs to 2 lbs with a number of 3 to 5 lbers. Our biggest was 7 lbs - Wife (Renee) caught two, and I caught one. We don't have a picture of her second 7 lber because while I was weighing the fish in the net, the fish just somehow jumped out of the net. Ha ha. The lake is already transitioning into its fall pattern with the fish moving to the mouth.

Renee with one of her best of the Klamath Lake trip. A nice 7 LB. bow. Congrats! Photo courtesy Ken Leonard.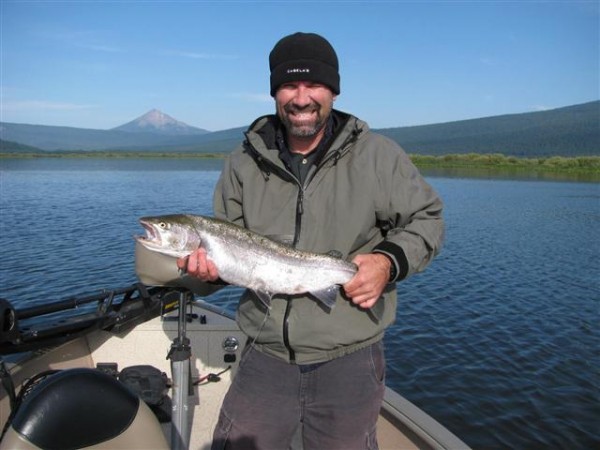 Ken with his 7 LB. bow from Klamath. He and Renee had a great trip with lots of nice bows landed. Photo courtesy Ken Leonard.
One of the better days fishing, we had a solo stocking pelican following us around. Nearly after every fish we caught, he would fly up about 20 feet behind the boat, wait for us to release it, then try to catch the fish himself - a first for us.

A lone pelican making a move on the fishing hole. Photo courtesy Ken Leonard.
Had another unique pelican encounter too. While going to our favorite hole first thing in the morning, we had to race 3 pelicans to it. We got there first and had to block the entrance so they would not go in and spook all the fish. It did not last long however, once we got in the hole and started fishing, they simply followed us in. So we had to share the hole.
Ken