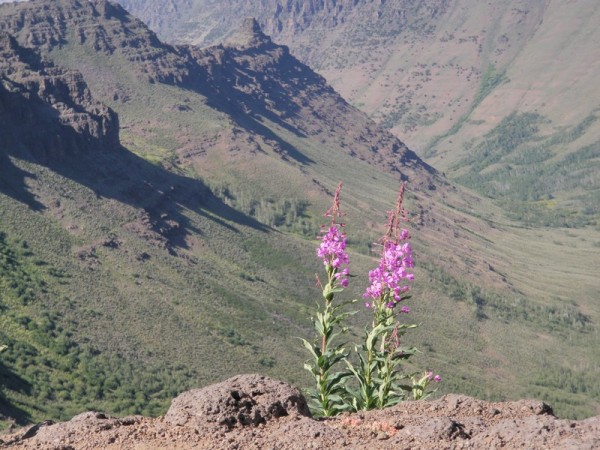 A great shot of Kiger Gorge
This was an unusual summer for us in many ways. First of all, no grandsons came up for annual summer visits. Colin is now in the Army and will be 19 this Oct. Alec, the second oldest, is 17 and wanted to work this summer to make some money. I probably wonít start up with Tristan, my youngest daughterís 5 year old, until he is able to handle being away from mom for a stay........he isnít ready yet but maybe next summer!
We had never made plans for so much company in one summer but decided this would be the one. Our dear friends, Chuck and Norma Bunch, came up for a week with us in July and we hit some of the local sights and made a trip into Western Idaho to see old friends we both knew. I did get Chuck out for a couple of days at East Lake and you can see from my fishing report of 8-1 we did fairly well.
That was followed by a trip to California to drop off a couple of giant gerrard rainbows to be mounted by my guys. One was 25 LB. and the other was 22.5 LB....fish to ďdie for.Ē Look for the mount photos to be up later this fall when I drop them off in Canada during our annual trip to Kootenay Lake. While down there, I did get to see a dear old friend, Susie Wiyninger, who has been battling cancer for several years now.
As soon as we got home the following week, Janís sister and her husband, Dick and Jean Birge arrived for a week stay. Many of the above photos are from our travels around Idaho, Eastern and Central Oregon. Though I didnít get out to fish much, it was fun to visit some of the best scenery you can find in the West! I will be getting out to fish this upcoming week so look for upcoming reports as I resume the summer brown trout fishing at our local lakes.
Rick