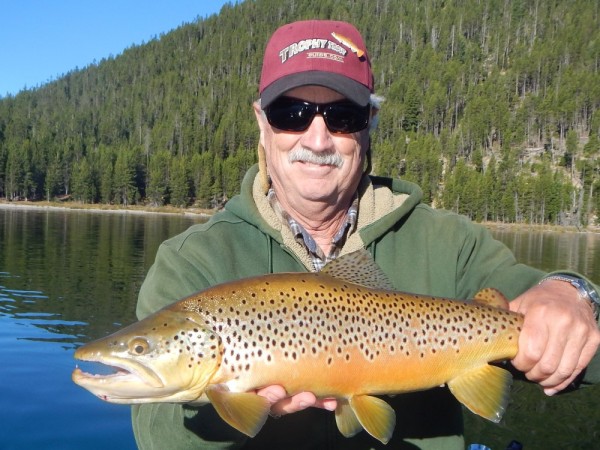 One of the best and most beautiful browns we caught this last stay at East.
Some of this past week was spent with my youngest daughter, Kim, and her two sons, Tristan and Trace up at East Lake. This was her first trip back up to Oregon since 2006 when Tristan was just a baby and we spent part of a week at the Oregon coast. We were so glad to have them up and had a great time camping and fishing together.
Our plan originally started when we were down in Porterville a few weeks ago and brought Tristan home with us for his first week ever away from mom and some quality time with grandma and grandpa. That took place the first week. Kim took her vacation time to come up with Trace to see us for week two of our family affair.
Our trailer was pretty much maxed out as the five of us needed all three beds and spent 3 days at East. On Wed. we decided to take a little side trip up to the top of Paulina Peak for the spectacular views you have from 8,000 feet. It is really cool to look down at both lakes setting at 6,300 feet in the crater below. We lucked out and the North wind kept the smoke from the fires in Southern Oregon out of the picture the day we went up. I have made that trip many times and never tire of seeing the views from the peak!
Fishing was definitely slowing down this week as the full moon arrived. We still managed to land 6-7 browns most mornings and 2-3 each evening but it was nothing like the week before. Kim did catch a couple of browns and her biggest was pushing 4 LB. Tristan caught several more and got better at handling the rod and reel. Little Trace loved to set up at the steering wheel and actually thought he was driving the boat as I was running my kicker on the remote-troll. He didnít have a clue and we let him enjoy playing at the wheel....built in babysitter!!
One morning while I was out early by myself, I caught a 23 in. brown and I was about to release it when I noticed the big tail right at the top of its gullet. I grabbed my pliers and pulled out an 8 in. kokanee you can see in the photo. This happens more than you might think. My theory is when they are feeding they will take several kokes in that feeding cycle.
We pulled out on Thurs. at noon to have a little R&R time at home and let Tristan hit our skate board park before they headed home on Sat. We also celebrated his 9th birthday while he was up with us.
Nothing quite like having some quality time with the family!
Look for my first report from Wickiup this next week.
Tight Lines,
Rick