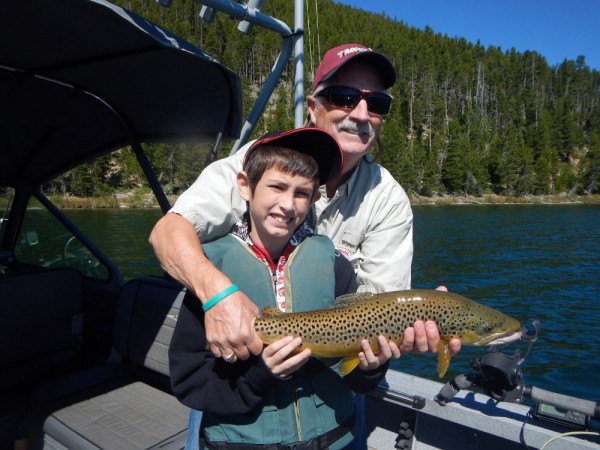 My grandson, Tristan, with his first brown trout.
Over these past twenty years we have lived in Oregon, I have had the opportunity to spoil a couple of grandsons that many of you have come to know through the website over the years. Colin started coming up to stay with us when he was only five and he is 22 today. Alec came up his first time when he was eight and this past March he turned 20. I can't tell you just how much fun and rewarding it was to teach them to fish, camp and enjoy the outdoors!
One of my goals was to put them on some trophy trout and that worked out pretty well. Colin popped a 12 LB. 6 oz. hookjaw brown back in 2005 at the age of twelve and I was thrilled to do a mount of this killer buck for him. Later that same summer, while on a trip with us to Yellowstone and Flaming Gorge, my buddy John "Krmp" Krmpotich put us on a wide open kokanee bite at the Gorge. Colin caught a 4.10 LB. kokanee that would have beat the WR for a 12 year old by two pounds but we didn't get it because of a line/leader length issue. His second brown over 10 LB. came back in 2010 and was a squeaker but just enough to put him in the Brownbaggers with me. The only grandfather/grandson team I think. A couple of years later he hit a 20 LB. Mack at Crescent with me. He has a pretty good resume I would say.
Alec wasn't far behind but was not up to see us as much as Colin. His best brown was an 8 LB. hookjaw that he caught at Paulina while we were casting into chub schools. A few years later, we had a killer 2-day stretch at Crescent and banged several lakers over 15 that included a 17 and then topped out with a 20 LB. Because gramps has some connections, he has a nice mount to show for it via a surprise Christmas gift.
This past week, we had my youngest daughter Kim's son, Tristan, up for his first visit to Oregon. We had been planning the occasion for the past few years. They need to be ready to be away from mom or dad for the duration of a visit, and hopefully, without bouts of homesickness. Usually a stay is a minimum of a week and can be as long as a couple of months. Colin stayed with us for June and most of July back in 2005! At the age of eight it looked like this was the year that Tristan was ready and he seemed really excited to come up to see Oregon.
After a week in California, the plan was to bring him back with us for a week and then the next weekend his mom, while on vacation, would come up to stay with us for another week and then the whole gang would head home at the end of that week.
This past week we took Tristan up to East Lake to stay in our trailer and enjoy the amenities of Central Oregon. He was on board with learning to fish and picked it up really fast. I always like to introduce the grandkids to two fishing drills I have enjoyed over the years. One is using a bubble and a fly on a spinning outfit. I started doing it when I was 12 and still do it with them today. What a fun way to learn to cast great distances and when you hook the trout, it is almost always in the nose or jaws. They usually jump often and put up great fights on the size 16-18 flies and 4 Lb. leaders. This will entertain the grandkids when you are off the water and they can do it themselves from shore and without your help once they get it down.
The other drill is what I truly love the most and various ways of trolling has produced some spectacular trout for me over the years. From flat line rippin' to dragging plugs off riggers, there is no more exciting way to hook trout in my book. I love to watch the rod bob or, better yet, pop one of the releases with the drag screaming!
The first morning I had him out, the downrigger showed a fish when it bounced after the first 10 minutes on the water. I told him what to watch for it and he picked up on it. After I got the rod out of the release, I handed him the rod and he awkwardly played his first brown trout. When he got it close, I coached him in getting it to me and the Boga-grip. After a couple of shots, we dropped the 20 in. 3 LB. brown back and he was on the books. Over the next few days we caught lots of browns from 2-8.5 LB. His best came the evening we had his new friend, Jeremiah, out with us. He reeled in a 6 LB. hookjaw that came right before we got off that night. He was in awe of his first big trout!
I did manage to hook a nice 8.5 LB. hen early one morning by myself and that topped our four day stay for the biggest brown. We came home on Friday afternoon and plan to get back up next week when the daughter arrives with three year old, Trace, and we do round 2. Look for the finish to this story next week.....
As I like to say, I am a professional at spoiling grandkids. Oh well, as the saying goes, it is a dirty job but someone has to do it! I signed up for it years ago and still love it!
Screamin' Drags
Rick