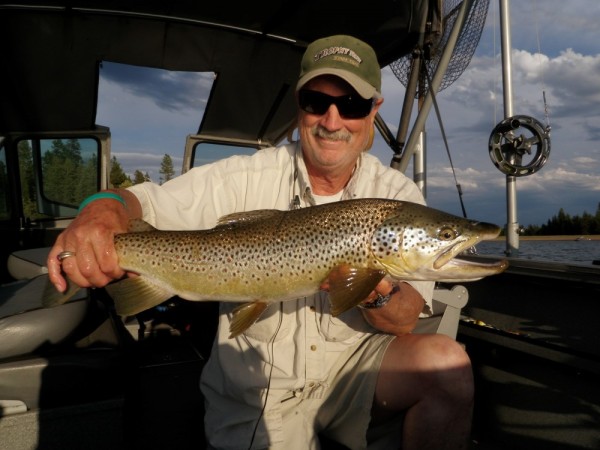 This 7 LB. brown hit a kokanee pattern plug. He was released.
For a change of scenery, Jan and I headed over to Newport on the coast this past week to beat the heat and smell the salt air! We never made it over last summer so we wanted to make it over at least once this year. After settling in at the motel, we decided to head north to see some sights around Tillamook bay. We took in both cheese factories and then hit the Air Museum right south of town. I love the old WWII planes and got to see two of my favorites....the P51 Mustang and the P38 Lightning. Two of the best they produced during the war!
After we got back in town, I thought I would run up to Wickiup to see how the summer bite was developing. The water is dropping so fast that the ramp at Gull Point will be out of the water in another week. Looks to be shaping up like the summer of 2011. Just to give all a "public service" announcement, the Deschutes National Forest Service is now enforcing a "no Launch" position for any boats from anywhere other than the ramps. In the past, you were able to launch from many different places off the beaches when the water got below the ramps....not so any longer. I confirmed that with the office in Bend this last week.
Earlier that day, I got a call from buddy, Steve Kroll, that he and his girlfriend, Kathy, were up at the lake. We hooked up when I got out on the water later that afternoon. Steve picked up this nice rainbow up in the Davis Arm that morning. We decided to work the Deschutes Arm for browns doing some casting and trolling to target the bigger browns that are starting to work their way up the arm.
On my first wind drift across an area I like, I caught this nice 5 LB. hen and since Steve was in the area, he took this photo for me. Steve and Kathy got into the act and caught a nice 5 Lb. hen and a larger brown estimated at 6-7 LB. The photo wouldn't up load for me though. I ended up with 5 browns to 7 LB. and had another 3-4 missed strikes.
Late News Flash! I just got a phone call that a fire has broken out near Wickiup reservoir west of Brown's Creek and heading toward the western shore of the Deschutes Arm. At present it is at 30-40 acres and being driven by 10-15 mph winds. They say there are plenty of crews along with helicopters and bombers working the blaze. All the campgrounds have been evacuated in the area. Hopefully, it won't jump the arm to the eastern shore. This is as of Sun. July, 28 at 7:00 p.m.
Tight Lines,
Rick