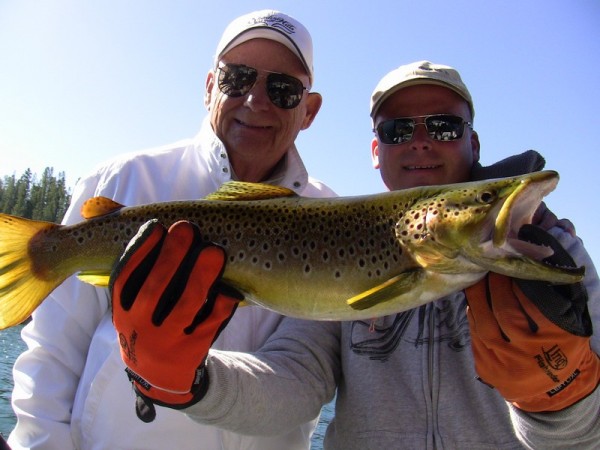 Best brown of the trip is this gorgeous 5 LB. buck brown. Photo courtesy Joe Mitchell.
My dad and uncle made the trip up from California this past week to do a little fishing with me. We got up to East lake on Sunday for a couple hours to hunt for some brown trout. I got the lines in the water around 8 am, not the earliest start to the day but none the less we were fishing.
It was not long until one of our rods started bouncing hard and pulled from the release, I grabbed the rod out of the holder and could tell it was a decent fish. I handed the rod off to my father, George, and after a nice tussle we got the fish to the boat. It was a 5 LB.+ buck and we got a quick picture and let the nice male return to the depths to fight another day.
A little later as we made our way down the lake another rod started dancing and this time it was my uncle, Ray's, turn at bat. He did a nice job playing the brown that ran about 4 lbs. A quick picture (not the best) and back to the water she went. Fished for some time with out a strike then all of a sudden my rod went down hard and our third brown of the day was on. After a short fight, we landed the brown that went around 3 LBS. We sure thought it was going to be bigger because it hit like a ton of bricks!
All in all we had a great day on East lake. We called it a day early due to high winds but is was sure nice to have my family on the boat with me to enjoy some of Central Oregon's great brown trout fishing.
Joe Mitchell