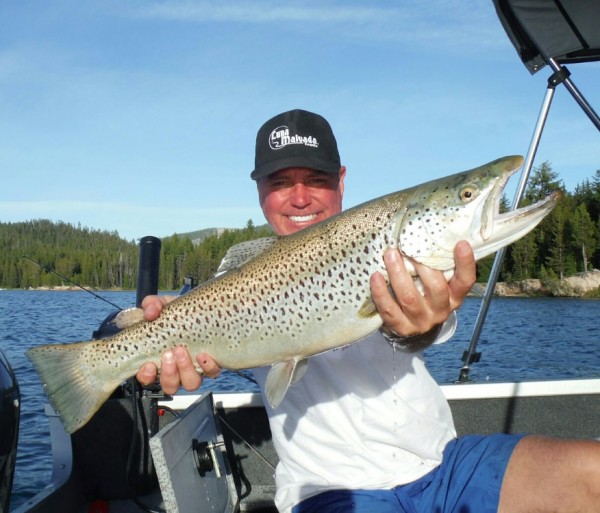 Andy with his best of the trip. Nice 8 LB. brown!
The unfortunate part of fishing Central Oregon when you live 1,000 miles away is, you have to deal with the weather presented when you get there! Living there, you can pick a cloudy day, rainy day, any day you want. Booking weeks in advance, you have to play the hand dealt. So this trip called for sunny, calm, and 90+ degrees. NOT ideal for Browns. But sometimes, you get lucky.
Late start first day but hit a 4lb. flatlining in the early evening. Was tough because the slime moss was thick in this area. But gave hope for later in the trip! The next day seemed like a bust. Early morning yielded one baby brown (dink?) and that was it! Was not worth the 5am wakeup call. As the sun came up it seemed like 100 degrees in no time and Browning ground to a halt. So, spent some time on Kokanee which is always easy, and fun, but nothing like the challenge of the browns. While trolling for Kokes, I found a spot that had everything on the fish finder. . Kokes at 40' and 70', Browns hovering all over the place, and a huge school of Chubs spread from 40'-60'. Around 6pm when it seemed to cool down to 92, decided to give the downriggers a shot for Browns. Loaded one up at 40' and one at 60' and ran right through that mess of everything. Took about an hour and at 7, saw the 60' snap to life. Grabbed and set and FISH ON! I knew right away that it was a big one. . .praying for 10+. Pulled up both rigger balls and started the fight. Got a great fight, especially starting 70' down! Finally got the net under and brought in a nice fat brown. Was giddy. . praying it might hit 10, but was just a couple ounces under 8. In the livewell for photo ops and time to bring in the other line. Reeled in, snapped from the release and FISH ON! Had no idea I had two on at the exact same time! Nice fight and brought a 5 pounder in. Technically not a 10, but combined 13 pounds should count? Nothing else the rest of the night, but a good way to end!
Next morning, nothing AGAIN. Just an overzealous 9" rainbow going after a 7" lure. Rookie. Still sunny, still hot, still Koke time. That evening started slow (aka "nothing") and as fate has it, the last run of the last night, 1 minute away from reeling it in and calling it a night, ZIIIIIIIIIIING goes the drag. I've fished Paulina dozens of times but never caught anything or THOUGHT I'd catch anything in this area. Best fight of the week. This fish was MAD! Brought in a 6 pounder to end my trip. Tried the 5am thing again the next day with the fever running, but again, nothing. Grand total, 2-1pounders, a 4, 5, 6, and 8. Not bad for 100 degree clear, sunny skies! Even the worst day can be the best day!
Andy Rose