Joe Warren sent me this current update on the status of the kokanee fishery over at Wallowa Lake. Many of you know that just a couple of years ago, the lake produced five Oregon State records and the World Record in the span of one year. I had the opportunity to make it over there in the spring and summer of 2010 and again in the spring of 2011. Enjoy some of our photos of trophy kokanee our groups landed. Though the bigger kokanee are now much harder to come by, the numbers of kokanee have exploded the past two years. Read an interesting report below of just where things currently stand.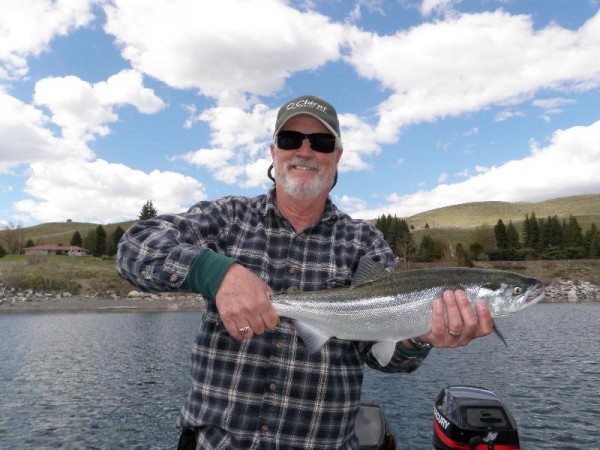 My best of the trip was 22 in.
Less Trophy Fish But Oregon's Wallowa Lake Sees Striking Rebound In Kokanee Abundance
Record-size fish might be hard to come by, but anglers should not go home empty handed from northeast Oregon's Wallowa Lake, where fishery officials estimate the kokanee population has ballooned from 70,000 in 2008 to more than 900,000.
"We've had a remarkable rebound in kokanee abundance, especially with younger fish under 12-inches," according to Jeff Yanke, the Oregon Department of Fish and Wildlife's district fish biologist in Enterprise. "Just a few years ago the lake was producing much larger fish but overall the number of fish was much lower."
In response, the state agency lifted the daily bag limit for kokanee from 10 to 20 fish. The new rule went into effect May 24. There will continue to be no minimum size limit but anglers will still be restricted to harvesting only five fish over 12-inches. For anglers visiting Wallowa Lake from afar, possession limits remain at two daily limits.
"This rebound in the number of young fish is unprecedented for a kokanee fishery," he said.
Wallowa Lake has gained a reputation for producing trophy-sized kokanee, breaking four state records and a world record from 2009 to 2010. An Enterprise angler in March 2010 caught a kokanee weighing 8.23 pounds, measuring 26.25 inches in length with a girth of 16 inches at Wallowa Lake, breaking the Oregon state record. That followed by a month the catch of a 7-pound 8-ounce, 25-inch kokanee that broke the previous record.
However, history shows that the presence of trophy fish wasn't always a positive sign, Yanke said. Since kokanee are density dependent, the presence of big fish is "actually a function of low abundance," Yanke said.
That 70,000 population figure in 2008 was likely very low in terms of historic abundance, he said, considering creel surveys estimated annual catches of more than 30,000 fish in the late 1970s and early 1980s. A landslide in 2002 buried one of the main kokanee spawning areas, and likely hurt production of the next several year classes.
But the rebound appears complete.
"In several lakes in Idaho and Canada, the catch of trophy-size kokanee was followed by major population crashes," Yanke said. "Wallowa Lake appears to have bucked this trend for now, and is hopefully in the process of stabilizing."
"We don't know what's going to happen from here on out," he said.
The changed population dynamics brings tradeoffs.
"It's a great kokanee fishery. It's just a little different than it was three years ago," Yanke said. "Angler expectations were certainly raised when so many record fish were caught in 2009-2010."
"Even today, many anglers expect to catch huge kokanee when they come to Wallowa Lake." And that's no out of the realm of possibility.
"There are still going to be big fish out there," Yanke said. But they may be harder lure amidst the new crowd in the lake.
Yanke said he hopes the increased bag limit will help offset the loss of trophy-sized fish.
The increased bag limit was established under a temporary rule that will remain in place for six months. ODFW managers are proposing the rule become permanent in January 2014. To comment on the proposed rule change, anglers should call the ODFW Enterprise office at 541-426-3279.
Wallowa was once the home to one of only two known Oregon sockeye populations. The construction of a barrier at the lake outlet in 1916 blocked anadromous passage to the population in Wallowa Lake.
Sockeye trapped upstream adopted the kokanee life history survived for a while until a population crash in the 1960s, Yanke said. Those native sockeye-turned-kokanee were replaced and/supplemented with kokanee from other Northwest lakes.
Two kokanee populations persist in Wallowa Lake today, spawning in the inlet and on shore, according to ODFW. It is unknown, to this point, whether any of the lake's native strain remains. Yanke said the state has been working with the Columbia River Inter-Tribal Fish Commission recently to conduct genetic testing Wallowa kokanee to, hopefully, identify their origin.
The Nez Perce Tribe - one of CRITFC's four member tribes - and the state have pondered the potential for restoring ocean-going sockeye in the lake. But research funding, habitat and passage issues remain.
Sockeye salmon were never widely distributed in Oregon but historically returned to the upper Deschutes basin in central Oregon and northeast Oregon's Wallowa basin. The Deschutes feeds into the Columbia and the Wallowa joins the Grande Ronde River, which flows into the Snake River along the Oregon-Idaho border.
Sockeye rear in freshwater lakes, typically spawning in inlet streams, outlet streams, or along lake shorelines. Kokanee have been widely transplanted in eastern Oregon lakes and are still present in historical rearing lakes including Suttle Lake in the upper Deschutes and Wallowa Lake in the upper Grande Ronde system.
A population of anadromous sockeye that historically existed in Suttle Lake and its tributaries was snuffed out with construction of a barrier at the lake outlet in the 1900s and later the completion of the Pelton/Round Butte dam complex in the 1960s that blocked passage to and from the ocean.
Efforts have been taken to restore passage at Pelton/Round Butte and hopefully rekindle anadromous populations of chinook and sockeye salmon, and steelhead. A naturally spawning population of kokanee exists in Suttle Lake and Link Creek.
From The Columbia Basin Bulletin at www.cbbulletin.com.