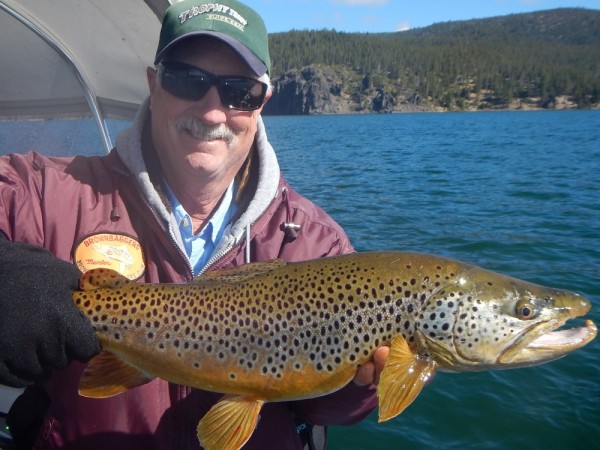 A beautiful 9 LB.+ buck was best of trip.
I got the invitation from my buddy, Vince Cacciottoli, to join him at East Lake the end of May. He had rented a cabin and asked if I wanted to meet up with him. It had been a couple of years since we had fished together so I looked forward to it. Vince and I go back to my guiding days at LBC for bull trout. We had several good trips there and our relationship has turned into a friendship.
I arrived about a half hour after Vince on Thurs. afternoon. We held off on dinner (Iíll get to that later) and decided to get out and fish. Not sure of the total brown count that evening but it had to be at least 10 browns. Nothing of any size....best was around 20 in. I would guess. On Fri. morning we hit it early and got into a lot of fish......seems like they were very cooperative and we had fun. My guess is we probably caught al least 25 browns and a few rainbows that day with several doubles.
On Sat. it was the same drill and we got out early and hit a lot of fish again. Around 9:00 a.m. I had a good strike and knew it was the best fish of the trip up until then. When I finally got him behind the boat I could tell he had some shoulders and when he saw the boat, the fight was on. After Vince netted him for me, we took several photos and I dropped him back. I didnít measure him but would guess he was at least 27 in. in length and broad across the back with a nice girth. In Vinceís net, which weighs 3.75 LB., it hit 13 LB. on my Boga-grip scale......that nets out to a little over 9 LB. At the end of Sat. we had caught at least another 25 trout that day just fishing the mornings and evening as we usually do. Vince wrote down the score and I asked occasionally where we stood. We hit a lot of trout and released them all.
The down side for me on Sat. was a small brown exploding on my gripper as I was taking out some hooks. Unfortunately for me, he managed to hang one into my thumb quite deeply right near the joint. After a few attempts to get it out, I decided to head down the hill and hit an Urgent Care facility in Lapine or Bend. As luck would have it, the Lapine office was closing soon and suggested I make the trek to Bend. I was fortunate that no one was there and they had me in and out in less than half an hour. This was # 8 for me in my personal hook history going back 50 years since the first one. I have gotten 4 out myself and had to have 4 extracted by doctors. Getting to be old hat but still no fun!
At this point I will stop and visit the unique dinner situation we faced. When Vince told me he was bringing the dinners, I wasnít sure just what to expect. As it turned out, Vince could easily be a Chef in a fine restaurant. From the Salmon dinner on Thurs. night to the New York steak we finished up with on Sat. night I was amazed at both the excellence of the meals and just how he brought it all together. Thanks again my friend!
We got up on Sun. morning a little earlier as we would be getting off the lake by 10:00 a.m. to prepare to head home. It was just as strong an outing as we had each previous day with lots of browns and rainbows to 4 LB. The Blackwater rainbows made up about 30% of our total rainbow take which was 11 total for the trip. The brown count was an amazing 65 total for a little less than 3 days on the lake. That is a total of 76 trout for the trip!
I will be hitting it again soon and probably Wickiup and Paulina as well so check back for further reports.
Tight Lines,
Rick