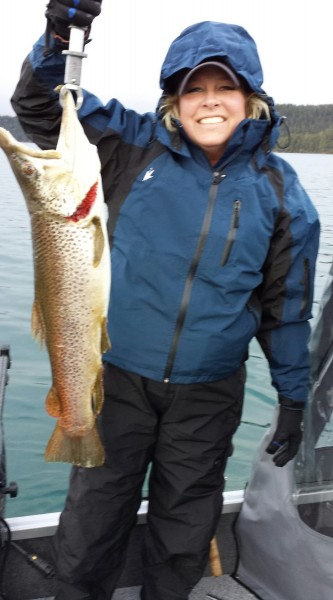 Amber with her killer 9.7 Lb. hookjaw. You go girl!
I had been anxiously waiting six months for this trip. . near ice-out at Paulina Lake. It would be a test of my new boat and gear for what was sure to be my Brownbagger-qualifying trip. At least, that was the plan! Only needed TWO over 10 LB. to get in! The new G Loomis rod, Shimano Tekota reel, Lowrance graph, Cannon downriggers, and Alumacraft Competitor Sport. . .it felt unfair! I almost felt bad for the fish. Apparently, there's more to it than that.
My buddy and I hit the lake the first day about 4:30 p.m. and immediately began flatlining. A storm was rolling in so conditions seemed good.
It was about 6:00 or so when her pole (figures) doubled over. She yanked back, and fish on! We thought. In typical brown fashion, the guessing game was on. Have felt weeds in that lake with the same initial early-season fighting tendencies. . a massive first hit and then anything goes. Could be a jumper, could be a coaster. Pull, reel, pull, reel, with a little tug now and then. More weed beds? Big brown? Tough call. Pull, reel, pull, reel, tug. "I think it's a fish and if so, it's heavy!" Only forty feet of line out now so we'd know soon.
When she shouted "Get the net!!", I knew. From 40 feet, I'd have sworn it was a barracuda, until I realized they were rarely caught flatlining, or in fresh water. This fish had a long body and GIGANTIC mouth. Close to the boat, he started his typical roll and dive and the tussle was on. Finally tired out, we slipped the net down and scooped him up. The second we got him in, 7" lure in his mouth, he coughed up a fresh 8" fat chub. This guy had a bulging belly, a pretty big chub barely in his throat, and still lunged for this lure.
Seems someone just woke up from their long winter's nap! Unfortunately, this would prove to be the difference-maker. Ecstatic, we brought the beast in, threw the chub back, and took out the scales. Both registered 9.7 pounds. Had he swallowed the chub instead of spit him out, we had our first 10+! A few more pix, a couple more times weighing just to be sure, and back he went. Back at the dock, we showed Todd Brown, owner Of Paulina Lake Resort, and he called Brownbagger, John Hofferd, over to see it. They were both impressed but commented on the odd shape. They thought at 30" it should have been a 12 LB.+ but the tail section of the big brown never filled out. Unconfirmed reports from both said it was the third biggest brown caught out of Paulina by a woman. That chub might have made it #1. Another reason to hate chubs!
After a torrid start, I was expecting a huge week but it wasn't to be. Apparently the calendar said "ice out" but Mother Nature didn't cooperate this year. The lake had been largely ice-free since January or February, so this was just another week. Final tally after a few days of fishing was a 4 LB., a 3 LB., a few 2's, and 10 little guys (using techniques learned from Rick Arnold a few years earlier on a guide trip). . plus 30 or so kokes for late morning fun. In the end, she caught 9.7 pounds of brown, and I caught 20 pounds of brown. She thinks she won. I'm reluctant to admit it.
Still only need two more. . . . .
Andy Rose