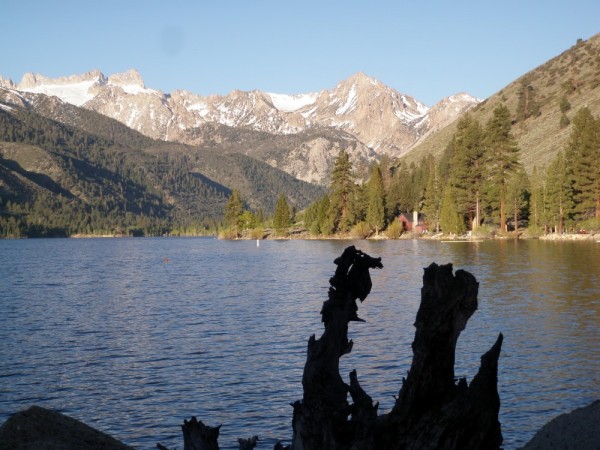 What a gorgeous lake!!
After several weeks of being "home alone" with Jan down in California and then Indiana, I took off this last Tuesday from Redmond to meet her at the Fresno Airport the same day she was flying in from a High School and College Reunion back in Indiana. As luck would have it, she was held up on getting out due to the same storm that devastated Moore, Oklahoma the day before. Fortunately, she was able to take off only 5 hours later and wasn't held up too long in Dallas on her connecting flight. We actually arrived a couple of hours apart and met our friends that were picking us up that evening for the ride back to Porterville.
It was a crazy schedule for the remainder of the week with us arriving at my oldest daughter, Steph's house late that night only to head out the next morning to Bakersfield to drop Jan off at our daughter Kim's house at 6:00 a.m. I then headed on down to Southern California to pick up some mounts for clients and then return to Kim's later that day.....I'm exhausted already!! The next morning we would hit the road early for Bishop to meet Dan and Becky Stewart for a late breakfast. Bishop is a little town about 3 hours north of Mojave and holds many great memories for me. My grandparents, on my Dad's side, lived there for awhile in the 50's. I can remember a couple of trips up there to visit and was introduced to fishing the Owens River with my Dad and Grandfather, Opie. Pautzke Balls of Fire salmon eggs produced some feisty rainbows and I fell in love with the High Sierras!
In the early 60's, my uncle, Dick Arnold, would haul me up to the surrounding high country around Bishop to fish for brookies, goldens, and rainbows in some of the little lakes that dotted the mountains above South and Sabrina Lakes. I learned to fling some of the older lures of the day ( Phoebes and Super-Dupers) and really enjoyed casting a "bubble and fly" rig from my spinning rod. I probably made about a half dozen trips up there from the mid 60's to early 70's to backpack and fish. A little later I would fish the surrounding lakes of Crowley and the Mammoths. I will never forget those trips!
After our meal with Dan and Becky, it was on to Bridgeport to pick up the big 17 LB. hen brown Dan had caught a couple of weeks earlier at Lower Twin Lake. At my suggestion, he left it up there in the store freezer for me to pick up on my way home. As we were heading up to Bridgeport, I realized that we had plenty of time to sight-see on the way. As we neared the June Lake Loop turnoff, I suggested to Jan that we drive through it and poke around some of the shops and Marina's at June and Grant Lakes. I have some fond memories from the early 70's of hitting Grant Lake in the fall with my buddy, Randy Wiyninger, for brown trout in Oct. We would rent a boat and drag Hornsberg flies right on top with spinning rods. Those 14-16 in. browns would explode the surface when hooked on the streamers. It was a blast!
Later that afternoon we arrived at Bridgeport and got a room. After a much needed nap, we took a ride out to the reservoir for nostalgia's sake. I used to head down to the dam real early or very late to toss Countdown 11 Rapala's off the face of the rock dam for some nice browns. I once netted a nice 10 LB. hen for a guy and actually caught my first brown over 5 LB. on one of our trips back in the early 80's. My Dad loved that lake and we last fished it together back in 1993 before he died in 1994.
The next morning I was up early to meet Steve Marti, owner of Lower Twin Resort, Store and Marina to pick up Dan's brown. I had been around Steve a bit when I used to hit the Twins in the 80's and 90's with my Dad. We had never actually met so we spent about 45 minutes talking about the "old days" and the pursuit of the monster browns that reside in the lakes. As I have mentioned many times, the Lower lake produced the California State Record Brown for Jon Minami back in the spring of 1983. The mount of the 26 LB.+ hen hangs in the marina and is one of the most beautiful mounts you will ever see. The current record is held by fellow BrownBagger, Danny Stearman and that monster hen which was a few ounces larger and was caught in 1987 at the Upper lake, hangs up at Mono village at Upper Twin.
Lower Twin went off on big browns this opening like it hasn't in many years. There were (4) browns over 10 LB. just the opening weekend with (3) more including Dan's big hen at 17 LB. and another big brown over 14 LB. since then. Steve was one of the lucky ones to bang a 10 the opening weekend. If you have never been up to the lake, put it on your list. Not only is it one of the most beautiful lakes you will ever see, it is the premier lake in California for big browns. The resort website is http://twinlakeresort.com/ and you can contact Steve by phone at (877) 932-7751. The resort is a full service operation with a store and rental cabins. The marina is well stocked with proven lures and you can rent boats of various sizes.
For the final leg of the trip, we took off for home with a stop in Klamath falls to meet up with Josh Kidney to pick up the (2) big browns they had caught at Paulina Lake a couple of weekends ago. You can read about their account on catching the big male (13 LB.) and hen ( 12 LB.) in last weeks report if you like.
It was a nostalgic trip that I always enjoy when I come up the back way to Bend. So many memories going back to the 50's....ones I will never forget!
Look for more reports as I settle in for the summer and hit many of our area lakes in pursuit of the big browns.
Screamin' Drags,
Rick