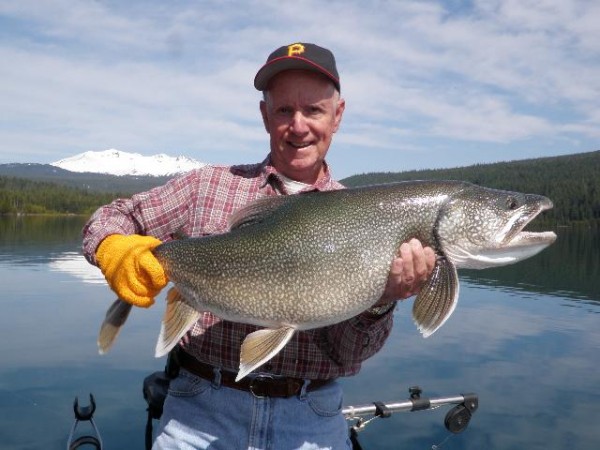 John caught his personal best laker this past week while we were on a trip to Crescent Lake. It weighed 24 LB! and was released. Congrats man!
I am rushing to get this report out right before we take off for Canada in the early a.m. I have a couple of mounts to deliver for clients up there and we will be fishing Kootenay for several days to see if we can pop a 20 LB. rainbow. We just got in this afternoon from finishing up a trip to Crescent and Wickiup chasing browns and are in full blown multi-tasking mode to get ready to get out of here in less than 24 hours.
We started at Crescent Lake last Sun. evening. The weather had turned really warm and it seemed more like July than mid-May. It was a slow Sunday evening and we looked forward to what Monday would bring. After a fruitless early morning, we were working an area just west of Contorta Pt. around 11:00 a.m. when John's rod went over hard in the holder and the drag started singing our favorite tune!
We thought it was a big laker the way it fought and sounded. About ten minutes into the fight, we could make out the silhouette of the big laker about 30 feet below us. With large air bubbles expelling from his gills, he floated higher up into the water column as he tired. The water was crystal clear and flat so you could make out all the details of the big beautiful char. Right after we netted it the lure was out. Not wanting to hurt it, we weighed it in my net and it registered 28 LB. Deducting for the net, it was right around 24 Lb. Close enough on for us.
It was his best laker beating out a Flaming Gorge specimen from years ago by 2 LB. We were pumped to make that milestone. A little later he would bang an 8 LB. hen brown to cap a great day by almost anybodies standards. A couple of "rat" macks between us would be the final take of trout for the day.
Crescent was pretty slow on Tuesday with a small brown and some little lakers so we decided to head to Wickiup to finish up the remaining two days we had left for this trip. Dan and Becky Stewart showed up the day before we left Crescent and it was good to get caught up with them again. Dan told me later by phone that Chuck Jones showed up and did scratch out a nice buck brown of over 7 LB.
Earlier reports I had gotten from Wickiup were poor at best. One of the weakest openings for browns in years. We did hit it on Tuesday evening and caught 5 browns to 4 LB. with another 4-5 short strikes. We were encouraged but had hoped for better size browns as always. We managed to scratch out a few decent browns each morning and evening with John taking a 6 LB. hen for his best from Wick this trip. I caught a long and lean male that could have weighed an easy 8 LB. for his length but was just short of 6 LB. It was fun as always!
Look for a report of our trip to Kootenay next Mon. and then an article from Don Ratliff on the state of the bull trout fishery at LBC will also be up soon.
Tight Lines,
Rick