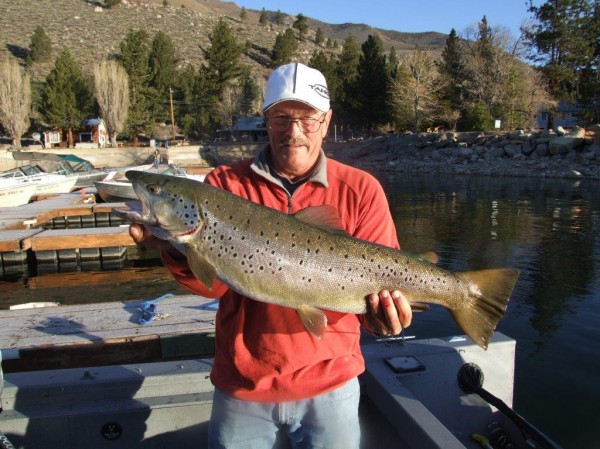 Dan Stewart with his 10th brown over 10 LB.! The 12 Lb. 12 oz. hen hit on a # 13 Rapala in his own kokanee paint pattern. Congrats buddy!
I first met Dan at Paulina Lake in the fall of 2009. He had just caught a beautiful 13 LB. hookjaw brown early that evening and approached me to take some photos of him with it. Later that evening, when we quit fishing, he gave me that big male to do a mount for him. A week later when my buddy, John Werwie, came up to camp and fish with me for a week, he met and fished with Dan one morning while Steve Kelly joined me for half a day. As luck (and skill) would have it, Dan stuck another big hookjaw that weighed right at 14 LB. John W. netted it for him around 9:00 a.m. that morning. Rick's Trophy Mounts did that mount as well.
I think because we had similar backgrounds growing up, it was easy for Dan and I to hit it off. When we talked on the phone this morning, he related about the times he had with his dad fishing together and how much he enjoyed that and how it influenced his desire to chase after big trout to some degree. Likewise, my dad and I grew closer together while pursuing big rainbows back in the 70's and 80's at Klamath Lake. Our journey was over in 1994 when lung cancer ended our time together here.
In fact, it was after Dan had inherited his dad's old boat and most of his fishing gear (after his death in 2005) that Dan's quest for chasing big browns developed. He was up at Lower Twin Lake in the fall of 2007 when he stuck a 12 LB. hen that was his first brown trout over 10 LB. Little did he know at the time, but he was just getting started. In 2008 his second brown over 10 LB. came while on a trip to Stampede in Northern California. That brown weighed a little over 10 LB. (what I call a "squeaker") and he now had the "disease" as we like to say.
Next would come his unreal year of 2009 that started in Northern California that spring and continued in Oregon right through the fall. He was "on fire" when he took a 10 LB.+ "squeaker" from Stampede to start the trip and then upon arriving in Oregon at Crescent Lake, he proceeded in banging an 11.5 LB. brown. Catching two close together like that is almost unheard of but wait until you here the "rest of the story." After Crescent he hit Wickiup and pulled a 10 LB.+ brown from there before heading home to Bishop, California. On his fall trip (described above) he landed (2) more browns over 10 LB. to pull off an astonishing (5) browns over 10 LB. that year. On the West Coast that is "walking on water" for trophy brown trout anglers. Only on the Great Lakes do guys put those kind of numbers together in a year for browns of that size.
The spring of 2010 would bring him his best hen brown so far when he took a 14.14 LB. hen from Lower Twin Lake right after the opener. He then slipped into a bit of a drought for the next couple of years until the spring of 2013 when he hammered a really big hen that weighed a little over 17 LB. from Lower Twin Lake the opening weekend.
That brings us to his recent spring trip back to Lower Twin this year. He landed a total of (4) nice browns including 6 and 8 LB. hens. He also had a really nice hookjaw that was 8.75 LB. and to top them all, his 10th brown trout over 10 LB., that weighed 12.12 LB. at the boat house on Lower Twin.
Dan, with this last brown, made the "Elite" group within the Brownbaggers Club. Congratulations my friend! I wish you many more big browns!
Screamin' Drags,
Rick