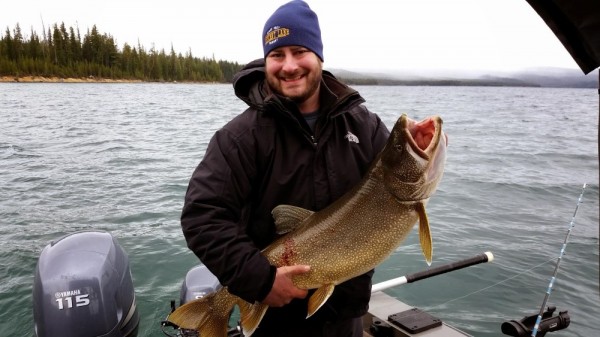 Court with one of the better macks.
What a weekend! This was the weekend of the Wickiup opener as everyone knows. Myself, Eric Cole, and Matt Pearson headed down to Crescent the Wednesday before for a little brown and mackinaw fishing.
The first day was beautiful, but a little slow. We fished some 7" AC Plug originals and I hooked into about a 10 lb. mack that threw the hook about 5 yards from the boat and then Matt landed a 6 lb one shortly after. Then the weather rolled in. We woke up the next morning to icy docks and even icier lines. Trolled for about 4 hours and then as I was reeling in to check the lure a 20 lb. mack hit the plug on top of the water!! Let me repeat that, on top as it was skipping across the water. Landed him.
Then we changed over one of the lines to a 9" original. Soon after we had a double hookup with Matt landing a 16 lber. and myself a 22 lber.. Things got slower in the late afternoon with only a 5 lb. brown caught in shallow by Eric.
The next day was a little slower, but I happened to land a 20 lb. mack with a lot of battle scars on it and then a 3 lb brown. All fish released.
The Wickiup opener was a diverse mixture of weather going from hot and sunny to snowy and windy. The lake looked like someone was running an aluminum regatta with all the boats out there. Browns were slow in the morning, but things picked up as we switched to kokanee. The kokanee fishing was steady, with 3-4 per run, but after talking to everyone else I suppose we did better than most. The redeeming factor was that they were all chunky, most right at 17". We ended the weekend with 43 kokanee in the cooler and only about 3 were caught on top.
Many thanks go out to Eric Cole for putting us on the fish!
Court Hyer