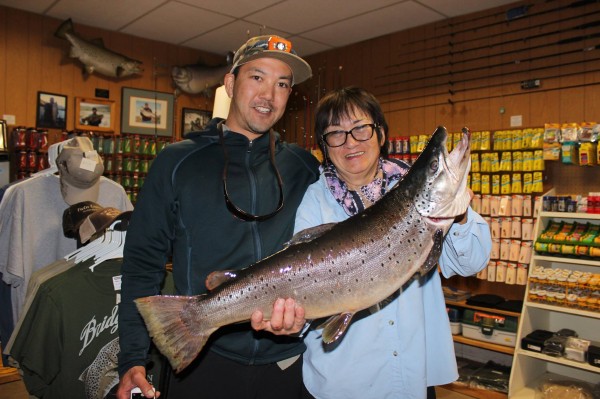 Craig Kojima put his mom on this killer 11.5 hookjaw from Lower Twin Lake. Congrats to you both!
Just before the opening last weekend, Eric Cole, and his buddies Court and Matt stayed up at Crescent for a few days. As always, they were hoping for a big brown. Unfortunately, those were non existent and actually, the browns didnít show much at all for them. They did get into a pretty good laker bite though with 3 over 20 LB. up to 22 LB. Weather was up and down and they did get a couple of smaller browns before they moved over to Wickiup for the opening. They did well there on some oversize kokanee and I believe Eric said they got 46 total over a few days! Seems like Wickiup is producing the biggest kokanee again this year. I will be posting a full report from them soon with more photos.
Continuing on Oregonís status, I had a chance to fish with my old buddy, Chuck Jones, up at Crescent Lake this past week. I didnít know he was there until I arrived that morning. After finding him out on the lake, we decided to fish from our own boats during the day but then get together in my boat for the evening drill. It is always fun for he and I to get together! I was hoping some of his luck would rub off on me after he nailed a 14 LB. hen brown the previous Sun. evening. I believe it is his 36th brown over 10 Lb. over the last 30 years! I will get a photo of it eventually but since he still uses film, I will have to wait until he gets it developed. I had hit a couple of 4ís and a 6.5 LB. brown the week before but, as you all know by now, it is only the 10 LB. browns that really count. It was not meant to be and after we both struggled for a 3 LB. brown each for the day, the evening was only a boat ride....we didnít get a bump!
Sticking with Crescent Lake, I got a call from Randy Jackson from California this past week. He and a group of his buddies were staying up there. Randy caught a huge 17 LB. brown from Northern California a few years ago and we were honored to do the mount for him. He was hoping to get his second over 10 LB. from Crescent this trip. It turned out that the browns were still pretty scarce though he did mention someone at the resort said they caught an 11 LB. brown the day they got there. It turned out that the laker bite went well for them during their stay with 4 over 20 Lb. up to his PB laker of a little over 25 LB.! He released it but will be having us do a mount for him. I will also be posting a report from their group in the near future with more photos. You can see his big laker in the photos above......congrats man!
I also talked with my buddy, Joe Mitchell, the other day. He had his dad, George, up from California staying with him to pursue some big Oregon trout. They did well at LBC for bull trout and as you can see in the photos, he put his dad on an 8 LB. bull and then popped his PB bull at 16 LB.! Congrats buddy! That is the biggest bull trout I have heard about in several years! As you can see in the photo, it was a toad! He did release it.
Steve Kroll called yesterday to fill me in on his first outing in his boat this year. He and a couple of pals were over at Crane Prairie to chase some bows. I think he said they caught 5 total from 16-21 in. and enjoyed the day. Floating crawlers below a slip bobber or blowing them up off the bottom was the ticket. I also talked with Pat Schatz over at Crane Prairie Resort and he said, though he was out of town, they had a good opening with some brook trout action and rainbows up to 6 Lb. showing for the more experienced anglers.
My call over to Shelter Cove Resort on Odell revealed that the opening weekend was a wide open bite on the kokanee with many limiting out early. I didnít hear anything about the lakers though. The kokanee were bigger than usual and many were running 13-15 inches......very big for Odell! The lakers should be showing soon.....wouldnít be surprised to hear of some over 30 LB. showing up there this year. Remember you have to release any bull trout you catch there as they are protected on this lake.
The gate was closed to Paulina and East until this weekend but a few guys did get in to sample the famous lakes. I did hear of a few browns up to 7 LB. but most of the numbers were smaller fish. Now that the gate is open, I expect to hear about some big browns showing, given the history of these lakes. I may be up there myself this coming week.
Moving on to California, The hot spot was Lower Twin Lake this year. Though not as crazy as it was two years ago when it produced 10 browns over 10 LB. in the first two weeks, it was a good opening with several over 10 LB. Scott Harp broke the ice on big browns with a 10 Lb. 10 oz. hen on the opening weekend. That was followed by a really cool double for Dan Stewart and Craig Kojima who were fishing within shouting distance of each other last Tues. evening late and hooked up on almost identical 11 LB.+ hookjaws at the same time. What are the odds!!
Dan got photos and released his but for Craig and his Mom, who have been pursuing a double digit brown for over 12 years now, they decided to keep their bad boy and I will be doing the mount for them. Congrats to all of them! Dan said it was really neat to see the enthusiasm and excitement the Kojimaís were experiencing after nailing the big hookjaw. The feature photo of them says it all!
And last but not least, after Allanís trip up here for the opening week, he called me on Tues. to say he was headed back down to Lower Twin on his way home. On Friday, as he was complaining about how slow it was for him so far this week, I graciously and sarcastically reminded him that no one was going to feel sorry for him after banging 10 and 13 Lb. browns already this year. He said ďyeah, your right, I guess I have had a pretty good year already.Ē You think??!!
Yesterday morning he called and said he had caught his biggest brown from Lower Twin since 1987 when he caught his last 10 LB. brown from the lake ( he has 9 from 10 to 20 LB. from the lake). The 5.5 LB. hookjaw hit of the rigger on his A/C stickbait. It even got better after that when in the evening, he stuck a 7 LB. hookjaw around 5:00 p.m. and then a 7 LB. hen around 6:30. I would call that a pretty good day and so would most guys. I havenít got a call from him yet today but I wonít be surprised if he does call to burn me with a big one!
Tight Lines,
Rick