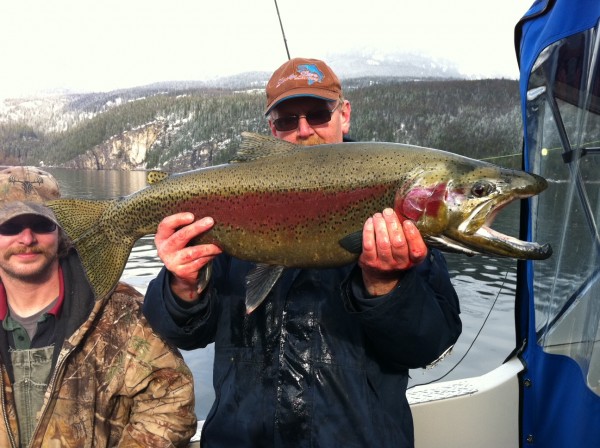 Another gorgeous male gerrard rainbow from Kootenay Lake. Photo courtesy of Kootenaykingfisher.
Spring fishing is starting. Starting to get rainbows on hair. Need to keep it slow to about 2 - 2.2mph. Should be full on here in a week or two. The 228 and 215 have been working for me. The greens should start up soon as well.The time is now to book your May and June fishing trips.
The Woodbury Dolly Derby had another great year. We had 3 bull trout about 10 or 11 lbs, along with a bunch of smaller ones.We also landed an 11 lb rainbow. Winning weight was 15lbs and third was 12. So close but no cigar.
Still have a few salmon / halibut trips available. Will be starting out on the west coast about July 1.The boys are already having some good days out there so will be a great year.
I got a new computer, and had to move over my fishing report list. Some of you may have been in my contacts, and got automatically put into my fishing report list. If you have received this email in error and would like to be removed, please reply to this email and type in remove in the subject line, and I'll pull you out.Thanks.
Feels great to be out fishing in the warm spring sun (when it decides to come out). Hope you can join me soon.
Tight Lines ... Brad Stubbs
www.kootenaykingfisher.com