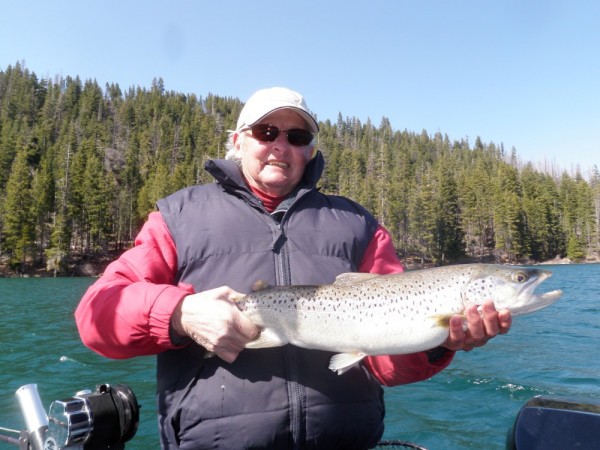 Steve Kroll with a nice 6 LB. hen brown.
Just as fast as it can get good, it can slow up just as quickly. That is what I experienced this last trip. I, for one, am not a great fan of the full moon period and that is what we faced this past week. It was measurably slower and a lot more work just to get bit. Steve Kroll joined me again for an outing. Steve and I go back to 1996 and fished together a lot many years ago. Now that he is retired we both have some time to get out after them and enjoy each others company. Steve, an excellent guide for many years and a lake trout "guru", has now committed to getting into some big browns.
Steve had top honors with a nice 6 LB. hen that spit up a 7 in. kokanee that was almost exactly the size of his new hand made lure the "Homey" that he has been playing with for several months now. You should see this baby swim!! My best was this estimated 5-6 LB. hen. We released both browns. We also caught several smaller browns that we refer to as "dinks."
With the official trout opener taking place this past weekend, it should be heating up on the reports. Feel free to send us your reports and photos of trophy trout......we welcome everyone!
I have several more trips lined up this spring so drop back for more reports.
Screamin' Drags,
Rick