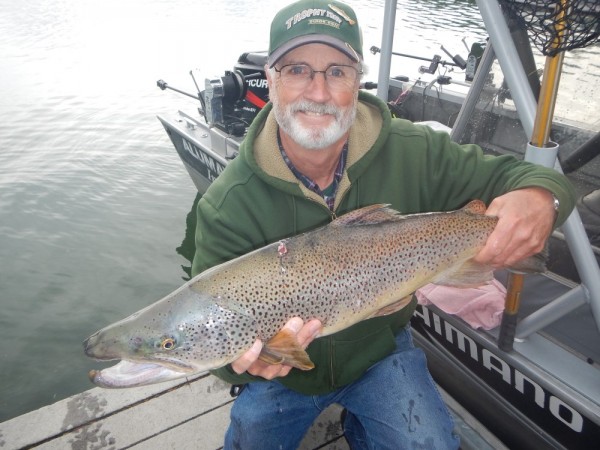 This nice hookjaw was a little short of 10 LB. He is still out there....released!
As many of you know, I have two fishing passions at this point in my life. The pursuit of the wild, giant gerrard rainbows that inhabit Kootenay Lake and Lake Pend Oreille and big brown trout over 10 LB.
Recently, I thought I just might have accomplished the latter, but he was a few ounces short. This gnarly old male was the second brown of the day and hit one of my favorite Japanese lures. He fought really well and when I got him up near the top and got a look at him, I was excited that he might just go 10. Turns out he was a few ounces short though. He was really beat up and in the photo, I show his best side. His other side had several wounds where he was attacked by one of the large otters that inhabit the lake.
Several years ago I noticed that a brown I caught had far more and bigger wounds than I thought they could inflict on each other during the spawning season. I called my buddy fishery biologist, Don Ratliff, to ask him what he thought. He recently retired after over 40 years as the senior biologist for PGE up on LBC. We both think the otters had learned that as browns go shallow to spawn or false spawn, they are very vulnerable. The otters in this lake get really big and after I witnessed one with a large bull trout up on LBC years ago, it wasn't a stretch that they would try and tackle browns this size. Luckily, this one did manage to get away. I couldn't help but wonder how many don't? I have seen several browns from this lake that had such wounds.
After a few photos from my buddy, Joe Mitchell, who was out with his dad that day, I let him go. Maybe I will run into him again and next time he will be over 10 LB. for sure!
Screamin' Drags,
Rick