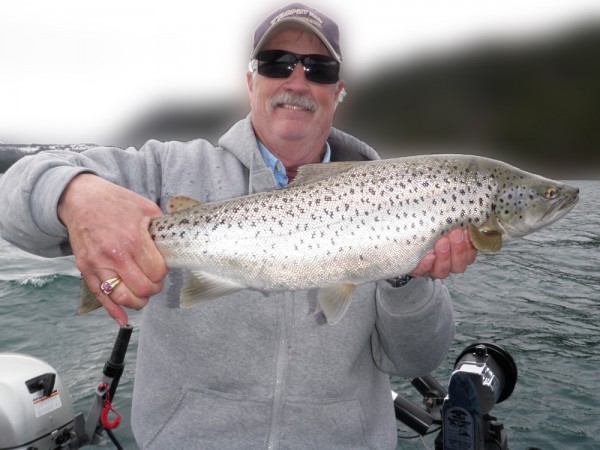 This fatty hen wasnt very long but she was fat.....went 8.5 LB. She was released.
After spending Easter with our kids and grandkids down in California, I flew home and planed an outing to get after some brown trout. This is the time of year that browns with start to make a move into the shallows and are accessible right after ice-out on many lakes.
A small front had just moved through the area and high pressure was going to be setting up before another front was coming through, supposedly a few days later. I had an assortment of some custom painted lures from Tim Hughes Baits that I was wanting to try out. I had some kokanee, chub and rainbow patterns that have proved to be the top three forage baits out here in the west from my experience. At least on most of the lakes I fish.
The first day was a slow morning and my buddy got bit a couple of times on a custom lure he hand made. This was his first time using it and we both liked the action on it. As it turned out, he had two good strikes but they didnít stay buttoned. I had a slow morning but then things lit up in the afternoon when a slight breeze picked up and the solunar calendar was right on for the new moon phase that produced some good action all afternoon. My first fish has a little hen and then I got another little one. Finally, I stuck a nice 4 LB. hen for the first decent brown of the day.
About an hour after that, I got a good bite and this one had some weight. The breeze had picked up a bit and as I worked her behind the boat, she made a good run and then jumped right behind us.....she got 3-4 feet in the air. I thought she could be a 10 at first but after another run and jump, we finally got her to the net. When I got a better look at her, it turned out she was fat but a little too short and actually weighed 8.5 LB. She was built like a log.......totally round.....a very healthy brown!
A little later that afternoon, I had another fish that seemed to have some decent weight and as we got her near the boat, I could make out a sore on the top of her nose. She was really long and if she would have been healthy, she could have gone 10! She tipped the scales at a little over 7.5 LB. and was also released.
On the second day we awoke to a lot of wind and then a little later that morning, I got a call from another buddy that said the weather was turning quicker that forecasted and rain and winds to 35-40 mph were expected by afternoon. I did get a 3 LB. hen early and then another dink around 10:00 a.m. before the winds really picked up. The last fish I had on that morning busted me off after the initial strike so I can only guess about that one. I always feel bad about a long distance release and the fish having a lure in its face......just an unfortunate part of the game.
I have another trip planed this week so check back later to see how we do.......
Screaminí Drags,
Rick