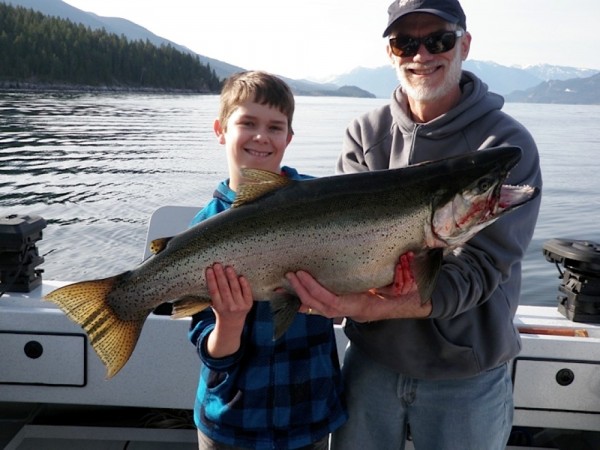 Owen and his Dad, John, with the boys monster rainbow just under 22 Lb.!!. With his luck, he needs to pick some lottery numbers for Dad!
The story of Owen's catch as told by his Dad, John:
We had recently purchased our very first boat. I realized we had a lot to learn about fishing from a boat, the basic gear to use, and techniques involved.
Ten days after purchasing it, and only our 4th time out, we decided to enter the Easter Weekend Dolly (bull trout) Derby on Kootenay Lake. On the 1st day of the derby, my son's Andrew (15), Owen (13), and myself fished from sunrise to sunset without a single bite! On Saturday, March 30th we set out at about 7 am. We started out across to the east side of the lake from Jones Boy's Boats. We set the rods up and put them out about a kilometer from the shore.
Owen decided on a green and yellow Tomic plug for his line and put it about 60 feet down off the riggers. About 15 minutes later we had a fish on. Though we were inexperienced, we worked as an effective team, getting the down riggers up and other lines out of the water. Andrew took the net as Owen reeled. His fish came right at us. In a few minutes a large fish showed itself about 25 feet from the boat. A few moments later Andrew did a splendid job netting this large fish. At this point we only knew that we had a very large fish, and that maybe we had a winning Dolly! If this was a Dolly, Owen could be the winner of the $1,500 first place prize! As we lifted the fish onto the deck, we realized we had a true prize, though not a Dolly after all. A very big, beautiful gerrard rainbow trout hen.
Owen radioed that he had caught a 21 Lb.+ gerrard and immediately got several congratulation messages back. Later that morning we went into Woodbury Resort, the headquarters and main sponsors of the derby, to buy gas and show off his catch. He got his picture taken with his incredible catch at the official scale and some admiring compliments by Scott, the announcer and MC for the derby, and the few other fisherman present at the dock. As we were navigating out of the marina, Scott announced on the radio that a 13 year old boy had just brought in a 21lb., 12 oz. gerrard hen! Almost immediately, there was a lot of congratulations and comments, and one man even asked Owen if he wanted to sell his fish! Owen, without hesitation, picked up the radio and answered with a resounding NO!
We fished the rest of the day and the next day until the derby ended with renewed vigour and enthusiasm, but no further bites. However, our luck had not completely run out, as Andrew won the 2nd to last ticket to be drawn for $100 and both boys won door prizes at the awards lunch at Woodbury Resort. I won the best of memories and a great time with my boys! We also met a bunch of very warm and welcoming 'old-timer' Kootenay Lake fishermen & fisherwomen, and enjoyed the most beautiful sunny weather imaginable. Owen became an instant Kootenay Lake celebrity and has enjoyed the associated glory in his usual calm and level headed way!
It was quite a weekend, and one heck of a start to our fishing adventures on Kootenay Lake. We didn't win the big bucks in the Dolly Derby, but ended up winning much, much more!
Thats Owen's and our story of an incredible weekend fishing on Kootenay Lake. We are going to cherish the memories, celebrate the moment and enjoy the beauty of this spendid gerrard rainbow by having Rick make a replica mount of Owen's catch.
Cheers and Good Fishing,
John