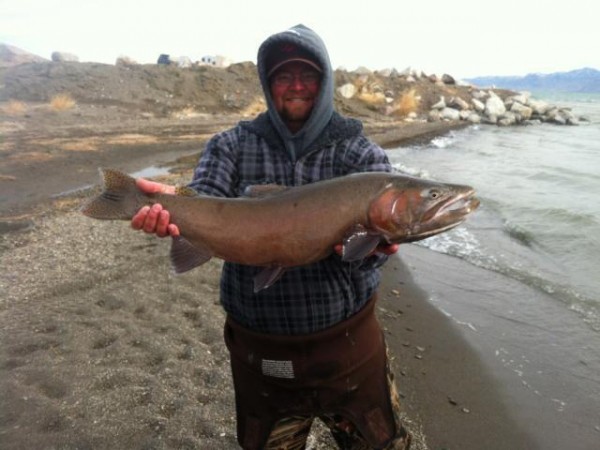 Jeff Morris did it again! This 11 LB.+ cutt was his 45th over 10 LB. and won the recent derby!
The fishing as of late has been a lot more miss than hit, but there was one standout day amongst all the slow days (3-17-12). Of course, I wasn't on the water that day and had to live vicariously through text messages from friends that were actually there. My friend, Jeff Morris, landed his 45th LCT over ten pounds on that day, and #45 was an exceptional one. It turned out that it was worth a new Polaris ATV as the reward for taking first place in the derby that weekend. This particular fish tipped the scales at 11 LBS 15 ounces, and Jeff and I joked that it was pound for pound the best he'd ever caught. Considering that the ATV was valued at $9,500 that particular LCT was worth about $791 a pound.
Jeff wasn't the only one that scored that day. There was a total of (4) 11 LB. LCT's brought in to the weigh in that day, and there were also a few in the 9 LB. range weighed in.
I fished the following day, and as has been typical of this season, the bite had died down significantly from the previous day. The word for this season so far is "inconsistent." Why the fishing stunk is anybody's guess. The conditions were prime for a fantastic ladder bite, with big waves and overcast skies, yet the bite was poor. I hooked 7 fish in 8 hours. I managed to capitalize on only 5 of my hookups. At about 2:00 p.m. I decided that I had had enough, and I left saying to myself and my shattered ego, "this doesn't happen to me... this lake doesn't get the better of me. How can it be this slow?"
My guess is that the action will pick up, and it will become more consistent, but I don't believe it is going to be nearly as good as the last few years have been. That said, I will be pounding away at it for the next month and a half in pursuit of my next double digit cutt.
Mike McNeilly