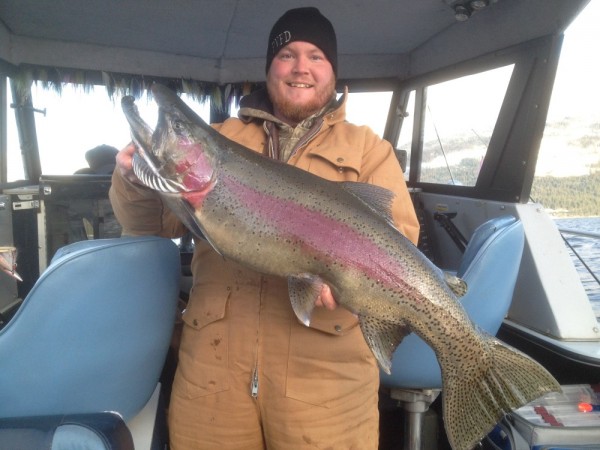 Congrats Mitch on your 35 in. male gerrard. Hope you win the contest!
My Name is Mitch and I would like to enter my fish in your contest.
On January 12th, 2013, my friend, Jesse, and I were out fishing on Kootenay Lake. It was about 7:00 with a stiff breeze but we decided to stay out all day and Iím glad we did. By noon that day, we had caught and released a 5 and an 8 pound rainbow and then Jesse landed a nice 10 pounder and decided to keep it.
Later that afternoon around 3:30, after a few hours with no action, I decided to check the lines and maybe change the flies we had out behind the planer boards. As I got one line about half way in, the other line snapped out of the planner board release and started screaming out line! I threw the other rod down and grabbed the rod out of the holder.
After a battle of 10-15 minutes, I had the fish right behind the boat. I still couldnít quite tell how big it was. The fish stayed just out of reach of the net for a few minutes until I could finally pull him in the last few feet. Jesse was then able to get the net under him. Both of our eyes nearly bugged out when we lifted the fish into the boat! The water was pretty rough at the time and my digital scale was bouncing from 20 -21 pounds.
Later that evening, we took the fish into the Gill and Gift shop in Balfour and got an official weight of 20 pounds 0 oz. The fish was 35 inches long with a 22 inch girth and is definitely the most beautiful fish I have ever caught!
Mitch