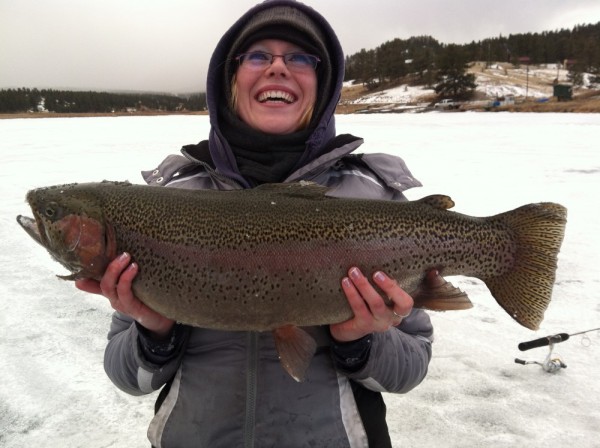 Big bow = big smile! Congrats Charlie!
On January 28th, 2013 in South Park, Colorado we had an awkward start to our morning. We got out on the ice at 8 a.m. and started drilling holes!
The fishing was slow for a couple hours but we enjoyed the weather that was nice and made the fishing outside much more manageable. Usually we are in the hut with the heaters blaring at this time of year! After a slow spell, we decided to pack up the gear and move. Dragging our stuff to a new spot, I set up the hut while my boyfriend drilled holes. Soon the weather changed and it started to snow.
While we were fishing in the hut, my boy friend finally hooks a nice 27 in. rainbow that weighed 9.15 LB.! After fighting this big boy he landed it, got a few pics and we slid it back down the hole (his personal biggest trout). That got me pumped up so I start fishing as hard as I can just watching my jig.....but nothing. We now decide to move one more time in snowy cold weather to our last fishing spot of the day! We drilled a few new holes and I began fishing once again patiently waiting for a hit.
The next thing I know, I see my pole slam so I RAN as fast as I could to grab my pole. While on the way, I could see my pole, bent in half with the tip in the water. I knew it was a monster! I grabbed my pole and began fighting for about 5-7 minutes. My boyfriendís fishing buddy showed up with the video camera to tape the battle. I finally got it in and was so pumped to have landed a huge rainbow trout over 10 pounds! It beat my boyfriends personal record by a whole pound and inch! My big bow was 11 LB. and taped at 28 in.!
What a day! Ten minutes later I caught another rainbow that weighed 8 LB. This was by far the best ice fishing day Iíve ever experienced! All fish that were caught were released to get bigger!
Charlie