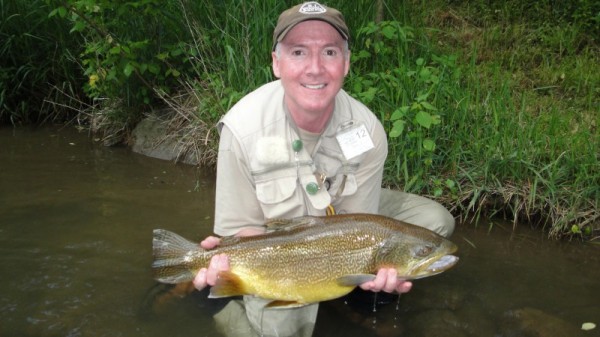 What a beautiful tiger trout!
I was fly fishing on a small spring creek in Central Pennsylvania this past May, 2012. My friend hooked a nice brown, about 18 inches, and I was watching him fight the brown in anticipation of helping him land it with my net. I was standing mid-stream, with my fly reeled in and dangling in the water while I watched my friend. Out of the corner of my eye, I saw a dark "torpedo" dart from the deep run we were fishing and grab my fly which had been swirling in the current literally between my legs. The trout bolted back to his deep lie, almost ripping the rod from my left hand since it happened in the blink of an eye. I raised the rod and felt the weight of an unusually large trout, but I still didn't realize what a rare trout it would turn out to be.
This particular spring creek has native brown trout, native brook trout, and a good population of rainbows as well. I know from talking to the PA State Fish Commission that this stream has never had a stocking program for brown trout or brook trout, and certainly not Tiger trout. In rare situations, a brown trout will fertilize the eggs of a brook trout, thereby producing a native Tiger trout. Tiger trout are like mules, they are born sterile and cannot reproduce.
Anyway, getting back to my story, we were fishing small flies with 6x tippet (the equivalent of 3.5 lb test line), so I was in for quite a battle with this trout in the swift current. After about 15 min, I was able to work it into the shallows, all the while assuming it was a large brown. When my friend netted it, only then did we realized it was a Tiger trout. The trout measured 25 in and weighed 7 lbs, 9 oz on my digital scale. We fish catch & release with barbless hooks, so we released it back into the stream unharmed."
Regards,
Steve Cook