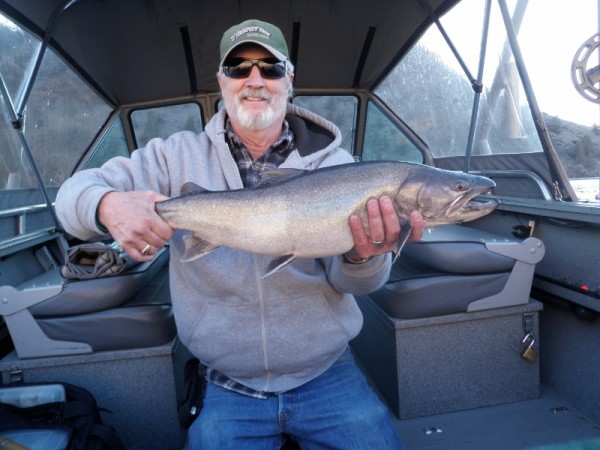 I got lucky to hook this nice 28 in. bull that was bumping right near 10 LB. I released him after the photo. My only bite that afternoon.
I was excited to be getting back to Lake Billy Chinook after three years away. When my wife retired a couple of years ago, we decided to buy a travel trailer and snowbird down in our old home town of Porterville during the winters. We were leaving in Nov. and staying until April to enjoy our kids, grandkids and warmer weather. This obviously meant no fishing for me in Central Oregon. I did pretty well for a couple of years before claustrophobia finally curbed my ability to live in a 27 foot trailer for months on end. That being said, I convinced my wife that my sanity depended on my staying home this winter! She reluctantly gave in.
My old Mercury 9.9 kicker had started leaking oil at the power head gasket back during my last fishing trip to Crescent in early Dec. I decided it best to buy a new Honda instead of pumping money into the 12 year old motor. My buddy, Terry Rayl, owner of Central Lakes Marine, made me a good deal on trading in my old Merc. for the new Honda. He ordered me one before we left for our three week holiday with the kids and we planned on installing it upon my return. After we got back to Bend in early Jan., I got it in to him and they swapped out the motors. Unfortunately, I had to set on my hands for several days waiting for better weather to break it in. The snow ended later that week and I was finally able to get out the middle of the following week.
I called my friend, Don Ratliff, to ask him to join me on the water one of the two days I would be up at LBC. He agreed and invited me to stay with he and Marty for the one night I would be staying over. I accepted and we had a great evening warming in front of the wood burning stove while talking fishing and vacations......subjects we all loved!
My first day was spent, for the most part, attached to the throttle of the Honda. They recommend 10 hours of running it an various rpms to seat the rings and break it in. Late in the day, I finally decided I could probably troll for a bit before I resumed the process for a couple of hours the following morning. I decided to just stay with one rod since I was still busy with the motor break-in. I was out near the boundary area and making a slow turn when I saw the rod do the tell tale rhythmic bounce of a fish on. I got the rod and popped it out and set the hook. I wasnít that impressed at first, while I powered up the Walker downrigger. It wasnít too long into the fight that I could tell it did have some weight the way the rod was loading. With the line counter at 30 feet, he decided to sound and dove down taking about another 40 feet of line, when he realized the boat was there.
After about 5 minutes I had him tired and on top and decided to net him. I knew he was a nice bull and weighed in my net, he hit 14 LB. That means the weight of the bull is around 10 LB. as my net weighs right at 4 LB. I then incorporate my system of balancing the net with a 12 LB. downrigger ball slid over the handle with the basket in the water which secures the fish and rests the net on the rear deck. This then allows for me to set up my camera for a self timer shot before I release the trout. I think I have it down to a workable drill with no harm to the trout.
One bite and one nice bull trout. He hit right around 2:30 and was the only hit that afternoon. I headed in around 4:30 for dinner up at Round Butte Inn. Afterwards I went to the Ratliff's. After a nice breakfast that Marty cooked up for us, I headed out for round two.
At the ramp that second morning, I ran into a guy I had met the day before. Dale Ditmore is a friend of the Ratliff's and, as I learned, a talented bull trout angler who has been fishing the lake since its inception back in the early 60ís. He was very interesting and we hit it off really well swapping stories as I waited for my motors to thaw before heading out. When Don showed up at the dock after lunch, Dale hung around since he hadn't seen Don in months. We walked Dale back to his truck as he decided to go home early after getting his legal bull for the day. He caught a nice 26 In. bull in the 8 Lb. range that would fill the grill later that day. I got a photo of him and then Don and I headed out for the afternoon drill. It was slow fishing but we did pick up (2) small bulls of 16 and 13 inches before we called it quits right before 5:00.
It was great to get back to the lake that had been so good to me over the years. As I drove home, I reminisced about the TV program and DVD Mark and I had worked on a few years ago and how blessed I was to have the great years of guiding on this special lake. It kind of felt like returning home after years away!
Tight Lines,
Rick