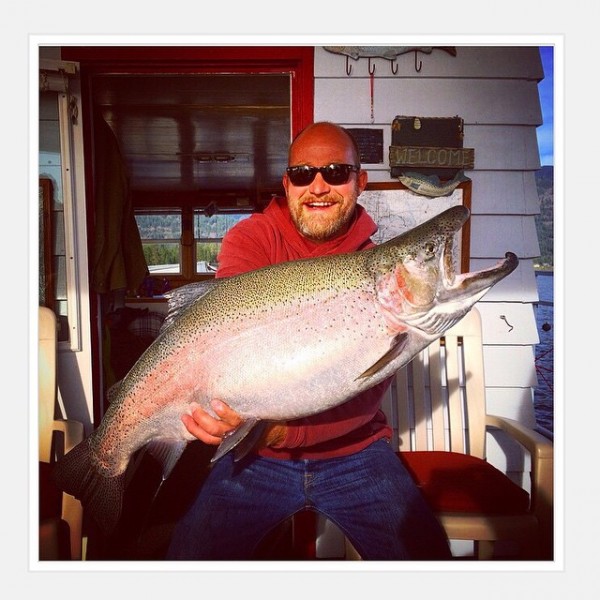 Here is a dream buck gerrard from Pend Oreille. At 23 Lb. and over 37 in. this is what you're looking for!
I have thought about this article for some time and am now finally getting around to it. The question is a good one and I have several things I would like you to think about. I have a lot of experience, especially in the last 30 years, on chasing after big trout. I have lost more than I like to think about but have become much better at handling the situation than in times past.
The scenario I am setting up is fishing from a boat since that is what I have been doing for most of the last 30 years now. Some of the things I will discuss will apply in general but for the most part, will specifically will be from the boat perspective. Iíll start with a couple of ďheart breakersĒ that have happened to me and a few of my friends.
A tough one for me was almost 25 years ago when my Dad was still alive and on one of our last trips to Klamath lake somewhere around 1991-92. Back then we had already been fishing Agency and Klamath for over 20 years. We had caught some nice rainbows but only in the last couple of years did we get hot on some big bows over 10 while fishing out of the Williamson River Resort about 4 miles up the river from the mouth of Klamath lake. We had dialed in a great drill fishing some holes along the tules that spread out east and West of the mouth. At the time of this event, I had probably caught 8 or 9 rainbows over 10 LBS. up to a 12.5 LB. male. My Dad had finally caught his first over 10 LBS. the year before. Anyway, it was around 9:00 a.m. and we had made a pass off a tule point we called the ďsearchlightĒ and turned around to head back to the mouth.
We only used 6 foot light spinning rods and trolled spoons back then. Suddenly, my rod goes over hard and the drag starts screaming and I remember I had a hard time getting the rod out. Not having lots of line on those reels, I was concerned when it seemed like it wasnít going to stop running. Finally, he let up and I started the arduous task of working him back to us. After what seemed like 15 minutes, I had him near the boat. As I often do, I lifted hard against the rod to determine if there is much weight in the trout. He felt bigger than any I had ever had on there before......a lot bigger! With the unique heavy algae that covers the surface waters of this lake, it is hard to make out the size until you have them right there. When I saw it I gasped, I told my dad who hadnít seen it yet, it was an easy 15-16 LB. big male. Way bigger than anything I had on at either lake going back almost 25 years!!
I told my dad to hang on with the net and not get too anxious. I suggested that I would tell him when I was ready. To make this long story a bit shorter, he couldnít stand it, got excited and lunged and in the process, got one of the treble hooks from the trout's mouth caught in the net. The big bowed thrashed and, as will almost always happen in these circumstances, the trout tore loose and was gone! My heart sank into my stomach and I couldnít believe what had just happened. I was so angry at my Dad we didnít talk for about a half hour! That was the worst experience I ever had losing a big trout.
Two years ago, I had a really good brown of 13-15 LB. on at Crescent lake. She hit on a smaller plug that was on my second and outside rod. My inside rod was on the planer board line working skinny water. When the big hen hit she exploded on top......maybe in 12-13 feet of water. As I usually do, I kept my speed up, left the rod in the holder and did a slow turn out into deeper water as I started the process of getting the other rod and the planer board in. Just that process probably took about 5 minutes at least. Luckily, the hen was still on when I could finally get back to the rod. By the time I finally got her right behind the boat (which was probably 10-12 minutes by now) I got a good look at the big girl. With the net ready just resting on the gunnel by my side, I was just waiting for the right moment to get her up. Unfortunately, she made a turn and I could see and then feel the lure come right out of the corner of her mouth.......it was over! I didnít do anything I would change in the situation but I suspect the little #6 hooks had worn a pretty good hole and when she turned the last hook simply pulled out.....that one hurt as well!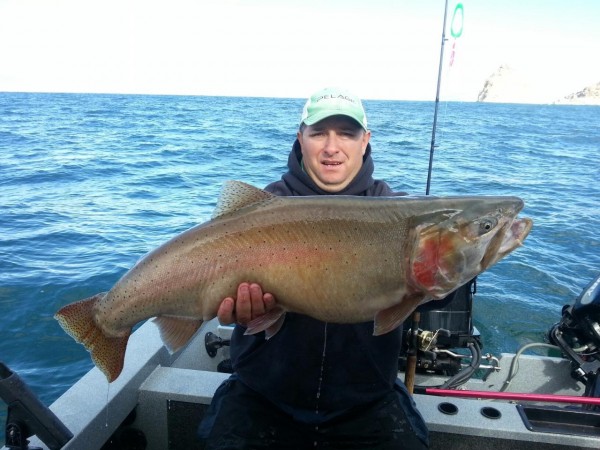 Shawn Parker caught this 20 LB. lahontan cutt slug at Pyramid this year. Congrats man!
Another sad one was told to me by Brownbagger buddy, Jim Bringhurst, a few years ago. He had been on a couple year drought since his last big brown of over 16 LBS. from Lower Twin and finally hooked a really big one off the roadside near the west end of the lake. The wind had come up pretty good and he had his hands full being by himself. With the wind pushing the boat, a big trout usually will end up wind of the boat and you are battling to even get it to you as the boat is pushed along. I canít remember exactly what happened but when he took a shot at it with the net, the same thing that had happened to me on the Klamath lake rainbow happened to him.....brown gone! What really hurt was that he could clearly see the big hen that he estimated at probably over 25 LBS.!! His biggest brown was 26 LBS. from Flaming Gorge but that was a long time ago. He had caught an 18 LB. brown from Lower Twin many years ago but this one would have been his biggest from the Twins by far!
Wanting to spare you such a painful experience, I will make some suggestions of things to have on the boat, how to use them effectively and maybe a few things not to do. Lets start with the equipment and how to use it for the best outcome. I would start with good rods and reels you are comfortable with using. I wonít go into a lot of specifics on names or sizes since we are all different. I simply suggest you have rods of at least 6.5 to 7.5 feet if you are trolling for big trout and reels that are a good compromise on size with enough line capacity and more importantly, good drags! You also need a net big enough to handle a big trout so I think a salmon size net is a good idea. I also think a Boga-Grip style scale gripper is a really great tool. On many of the lakes I fish, a good lure retriever is also a good investment.
I want to really get into what to do and not to do when you finally have the fish of your dreams on. First of all, I believe you should enjoy the ride and play the fish.......not necessarily just try and crank it in. Your goal is to keep it on and hopefully, tire it out before you attempt to land it. I will start with the drag on a medium setting......enough to allow it to run when it wants, but tight enough that you can pick up line when it lets you. As I get a big trout closer to the boat, I like to back the drag off some more. This is a crucial time and many big fish have been lost when they do a big run and possibly pop the line or the hooks pull out if the drag is too tight.....better to err on a little looser drag I think. If you get it close and see it is barley hooked, you want to try and net it as soon as possible. When they are at the boat many are lost for various reasons. The urge is to try and net it as soon as possible but I think that could be a mistake if the fish is too hot and not really ready to net. Your goal is to maneuver it up and get it resting on top eventually if you are lucky enough. In a perfect scenario, you can guide them to you and then slide the net, coming from the head direction, under them. The best thing you can do is not panic and keep your cool when you have them near the boat.
The gripper is a great tool to control them while in the net to work on getting hooks out. On moderate size trout of 3-7 LBS., I often will simply work them to the stern and grip their lip to control them......this takes some practice though. You can also weigh trout on the gripper though I personally donít like to weigh really heavy trout on them vertically........I weigh them in the net and simply subtract the weight of the net if I am going to release them. If you are keeping the trout then simply weigh it on the gripper for the most accurate weight. I also have invented a system using vinyl coated SS cable in an 1/8th in. diameter about 12 feet long that I attach to the gripper and the railing of the boat. It serves two purposes.......for one, you canít lose the gripper by accidently dropping it in the water. I also use it to revive the trout after taking hooks out and maybe some photos. I drop it and the trout over the side and then pop the kicker into gear at idle and slow troll the trout a little deeper in a little cooler water....helps in the summer when surface temps get pretty high. If you are not going to harvest a trout then you should be careful with them....that is what catch and release really means. You want them to have a good chance at surviving!
These are just some of the things I consider when trying to land a big trout. I also suggest you keep all your gear in good working order and hopefully donít have an equipment failure to cause a lost fish. It is hard enough to simply catch one for most of us. I hope I gave you some things to think about and this has helped some.
Tight Lines,
Rick