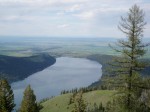 After a successful trip in May, I couldn't get this "jewel of a lake" out of my mind. Not only is it a gorgeous place to see and fish, it is, without a doubt, producing the biggest kokanee on the planet! To prove my point, I had set up a meeting with Ron Campbell to pick up his new (pending) World Record kokanee on our way over to Wallowa for his mount we were doing. It looks like his 9 LB. 10 oz. monster will likely stand up as the new record. Incredible as it sounds, the Oregon State Record has fallen (5) times since last July and the last one was also the World Record. What is happening at the lake is unprecedented!
My middle grandson, Alec, had been up here for his annual visit to Oregon and a month of spoiling from Grandma and Grandpa. It has been a tradition to bring the grandkids up each summer to expose them to all the camping, shooting and fishing they can take! Poor guys, they really have it rough! For that matter, so do we....ha ha!
Unfortunately, when Alec arrived, it was the tail end of the rainiest spring I have seen since we have been here ( 15 years). Between some meetings I was involved with and the rain that wouldn't seem to quit, he was having to "cool his heels" for a week before we got out the door for Wallowa. He and I were both ready! It was his first time over and my second trip this year. John "Dink" Werwie, Dave "Snapper" Peterson, his nephews and myself, had come off a successful trip in May with kokes from 2-4 LB. I was licking my chops for the chance to get back in the saddle!
I meet Ron Campbell at the Shari's in Pendleton where he lives. As we sat around getting acquainted, I couldn't help fantasizing about our chances at getting into some of the "mega-kokes" that are putting the lake on the map. I told Alec that we had a realistic shot at some 4-5 LB. kokanee. Ron did give me a few pointers that later proved to be very helpful (nothing like local knowledge!) As we strolled out to his car to get the fish, I was anxious to see this beast. After all, this was the biggest kokanee ever documented! He had prepped it well and the 27.75 in. hen looked more like a small Chinook than a kokanee! She will make a killer mount!
After farewells, we pushed on to LaGrande and finally arrived at Joseph around 3:00 p.m. I pulled into the Sports Corral to say Hi to Larry and Brad Snook and thank them for turning so many of the State Record kokanee our way. Rick's Trophy Mounts has managed to round up three of the last four State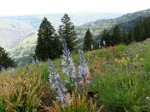 Record kokanee and then really was blessed to acquire the World Record. Of course offering free comped mounts for record fish might also have something to do with our success. These are "fish of a Lifetime" and we are happy to be able to have these fish in our stable. Even though a couple of records fell within 3 weeks to a month, we honored our offer and each one will get a free mount.
When we got checked into the campground and launched the boat, we had time for an evening run for a couple of hours. It was flat as glass and no clouds.....not exactly ideal conditions. We did manage to land several kokanee but they were all dinks in the 7-8 in. class. We were running our rods from the top down to 40 feet. No big boys or girls the first night! As the sun went down, it was so beautiful we didn't mind a bit.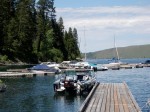 Tuesday morning came early and we were excited to get out at first light. I was running two rods off the rigger and Alec had one on top and the other on the rigger at a depth between my two stacked rods......we had it covered from the top to 35 feet. The graph marked a lot of kokes at 25-35 feet and that would turn out to be the magic depth this trip. We poked around town after a nap and then got back out for the evening drill only to attract more of the dinks. I didn't even want to keep any they were so small. We decided we wouldn't keep any under 15 in. We still had Wednesday and Thursday so we didn't panic yet.
Wednesday morning was slightly overcast and ideal conditions. I pulled up to make a run we liked and we got the rods out and got ready for something bigger we hoped. As Alec was getting his second rod out, his line flew out of the release on the first rod and it loaded nicely. I asked how it felt and he said he thought it was definitely bigger than anything we had caught so far. I cleared my two rods so we could enjoy the fight and avoid any complications from tangled lines. Believe me, once you play some 4 LB. kokanee, you will understand just what I mean.
These fish are rockets and not only often pop the release but can make some serious runs with the drags getting a good workout. When we got color on it, I could see it was over 20 in. and the best koke yet. The fish went nuts at the boat and it took a couple of tries to finally net it. It was over 3.5 LB. and would be bigger than anything we run into in CO with the exception of Wickiup in Aug/Sept......especially the last couple of years. I have hooked several aggressive males in the the same size range while ripping plugs for browns in the evenings.
After some smaller kokes and the sun getting higher, we called it a morning by 10:00 and headed in. We decided this might be a good day to ride the tram that runs from the bottom of town to the top of Mt. Howard. It is supposed to be the quickest rise for a tram in the United States with an elevation change from 4,000 feet to over 8,000 feet on the top. It is a cool drill with many options to head out on the trails for designated areas with spectacular views and great photo opportunities. It is a must if you are staying for a day or two.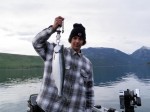 The evening drill was uneventful for any bigger kokes and we were a little disappointed that we weren't getting into any of the toads that have made the news this year. During the night, I was awakened by the sound of a gentle rain. Maybe this would kick things in gear on Thursday I thought as I drifted back to sleep. Sure enough, we had good cloud cover when we got out and started back at the area where Alec hit the good koke the morning before. This morning Alec's first koke again pops the release and a 4 LB. male puts up a fight that we were unaccustomed to in kokanee fishing. I wondered how crazy it would be to fight an 8 LB. kokanee on the little "buggy whip" rods we like to use for kokes.......I was truly hoping we would find out!
After we boated another nice 3 LB. kokanee, I decided that we would work that area over for all it was worth. I headed out to mid lake and we swung some turns and circles and hit another nice kokanee. The highlight of the trip came when I was playing a nice kokanee and as Alec was getting out of the way with his rod, he got bit about 30 feet out and also had a big koke. As it usually goes when something like this happens, the "green" fish got tangled and we had a "cluster" going with two hot kokanee right behind the boat. Mine was closest so I told him to just hold his fish and I would try and net mine. We got lucky and and I landed mine. I removed my blade and lure and then we managed to land his, which turned out to be another 4 LB. kokanee.
Boy were we lucky to land those two!
Around 7:00 a.m. I told him that since things had slacked, we might want to pull out and see some more sights before the evening drill. All of a sudden, my rod bounces hard and as I get to it, it is out of the release. I can feel some weight and have Alec clear the other rods. When I finally get some color on the big koke, I see what turned out to be a 22 in.+ that would be my personal best kokanee to date. The big chromer weighed close to 4.5 LB. and really put up a great fight. I can't tell you enough just how hard these bigger kokanee fight. At the end of the morning we had a total of (3) kokanee over 4 LB. and the smallest we kept was around 17 in. I figured that the 7 kokanee we kept weighed around 24 Lb. total!
Now that seems impressive for most kokanee outings but I will have to admit that many of the locals I talked too had all caught kokanee from 4-6 LB. this season. Just while we were there, we saw a 5.5 LB. male at the fish cleaning station and then I got a call from a guy from California that wanted to mount his son's 25 in. and his 26 in. kokanee that weighed 6 and 6.5 LB., respectively. On Fri. morning as we pulled out, I meet the mount client and then we decided to stop by the Sports Corral to say goodbye and see if any toads had been weighed in the last day. Larry said someone was in store earlier and weighed a 7.7 LB. monster that morning. All I can say is "incredible!"
The hot rigs were Shasta Tackle Sling blades in both the 4 and 6 in. size. We were using the UV patterns for the most part and pulling Pro-Troll kokanee Killers in the 2.0 size off the blades. The other magic lure was Shasta's Pee-Wee hootchies in various colors. It seemed that both rigs were about equally successful.
We decided we wanted to get a little sight seeing in so a trip over to Hell's Canyon Overlook was in order. It is about an hour away from Joseph and worth the trip. It is the steepest canyon drop in the United States with a depth of over 7,00 feet on the Oregon side and 9,300 feet on the Idaho border. The wild flowers were in bloom and we had some amazing views. Unfortunately, a big thunderstorm moved in and our trip was cut short. This area is another "must see" if you make the trip to Wallowa.
I'll close by stating once again that if you ever wanted the chance at a monster kokanee, this is the year! Good luck if you make it over and do drop me an email about your trip.
Tight Lines,
Rick